Bumpers are a staple in many gyms. They come in all shapes, sizes, and weights and can be stacked on top of each other as they do not have hooks or handles. We found great ideas for organizing them and keeping them safe! The search for the perfect bumper plate storage system ends here. With this roundup of 25 DIY Bumper Plate Storage Ideas, you'll never have to run out of room in your garage or make more trips to the gym to get your reps on again. You'll find options from wood and plastic to concrete and even cinderblock walls in your quest for a new space-saving solution. And if you're a total DIY beginner, don't worry—there's a solution for you too!
DIY Bumper Plate Storage Options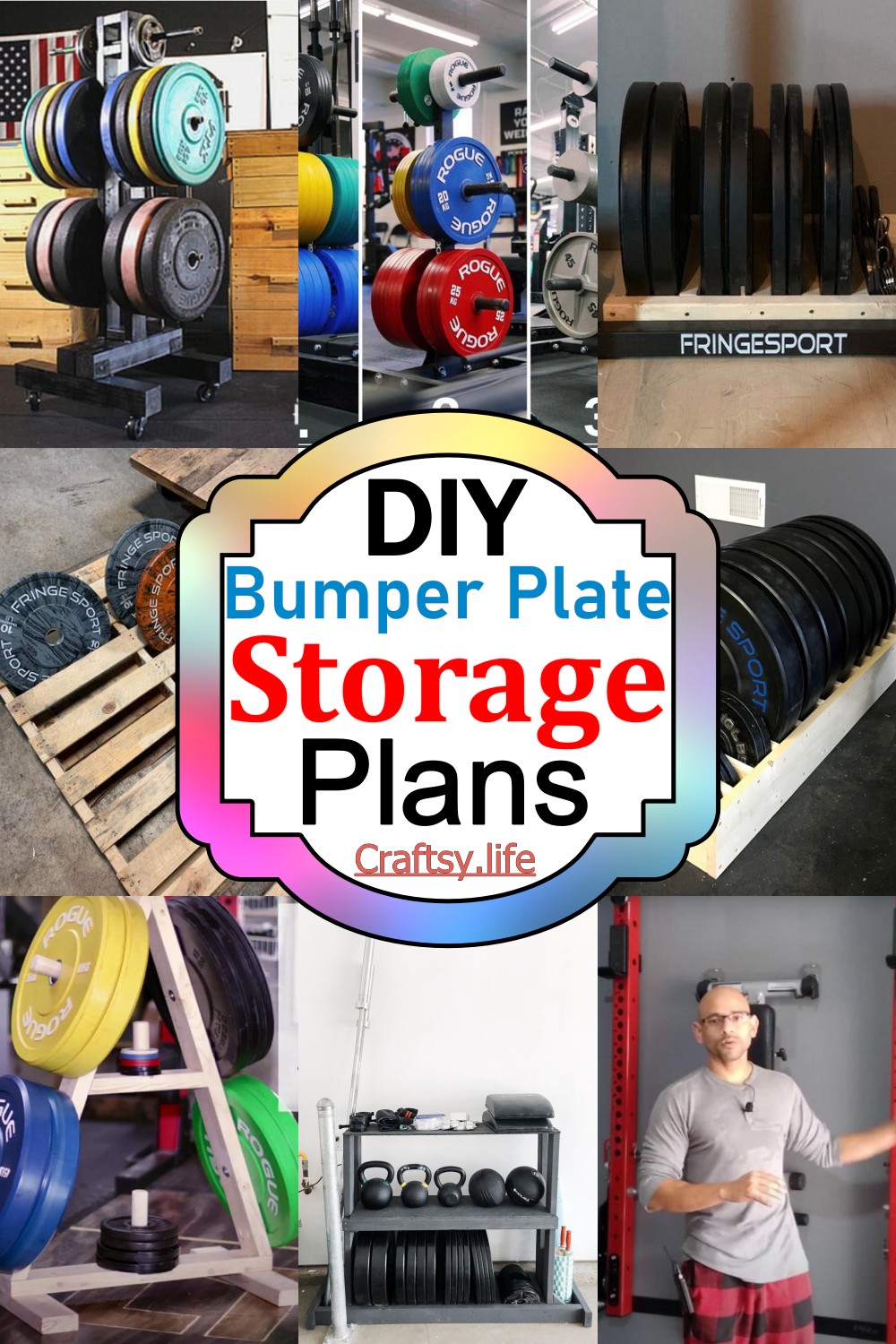 Whether you're just starting with a home gym or are looking for a way to make your existing equipment more accessible, a bumper plate storage solution is the best way to maximize space. Bumpers can be stored vertically rather than horizontally, frees up extra floor space, but these sturdy racks also provide quick-and-easy access to plates on demand! These DIY Bumper Plate Storage ideas save you space and protect your weights. With a few tools and materials and some DIY know-how, you'll be on your way to making some robust storage for your home gym!
Benefits Of DIY Bumper Plate Storage
With DIY bumper plate storage, you can make a system that keeps everything organized and easy to access. Here are some of the benefits:
Easily Accessible: This storage system will make it easy to get to any bumper plate when needed. That means you won't have any problems grabbing the right one when it's time for your workout!
Keeps Things Organized: This type of storage system will keep all your equipment neat, so it doesn't take up too much room in the garage or take up too much energy when trying to find something specific without knowing where it is located explicitly within all those other items that are similar but not exactly alike (like different colored weights).
Why go DIY when you can buy a storage rack already made?
There are many different storage options, but they all have the same problem: they're expensive. And while it might seem like a good idea to buy one, if it's not something you'll often use or even regularly, you might be better off making one yourself. Here are some reasons why:
You can customize your storage to fit your needs and style. If you have a lot of bumper plates, maybe you want something that looks like a giant pyramid with them stacked up inside. If you have more than one set of weights, perhaps you want them laid out in rows.
It will probably cost less than buying an already made storage rack. You can get everything you need at your local hardware store or thrift store (and if it's not free, then it's probably pretty cheap).
You'll know precisely what materials were used in the construction. Some companies use toxic materials like formaldehyde glues or paints that are harmful when inhaled over time.
See Also
Quick And Dirty Plate Rack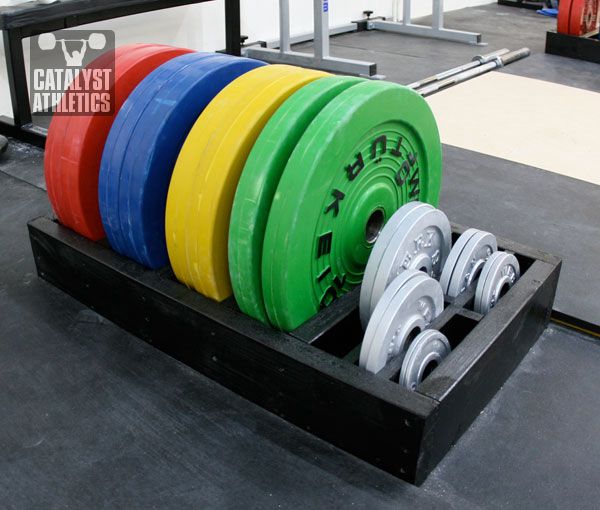 Bumper plates can be an expensive investment, but they don't have to be. These bumper plates are very bulky, can get dirty easily, and require a special rack or stand to keep them together. So you can build an amazing bumper plate rack in less than 30 minutes with a few simple materials and some elbow grease. This tutorial will show you to make a cheap bumper plate rack that is sturdy enough to take your best hits and keep your plates stored neatly and securely, saving you money.
How To Build A Weight Plate Rack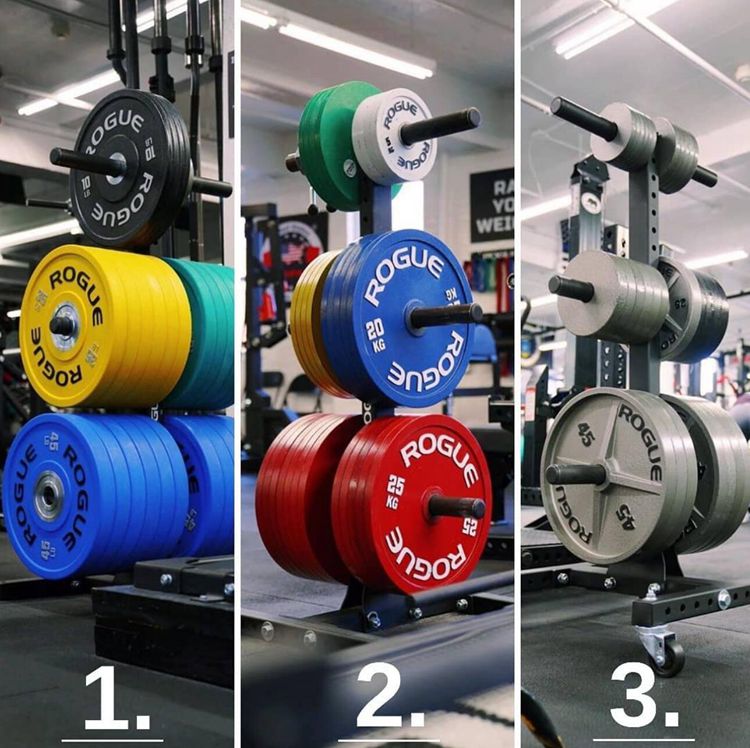 Like a weight tree, this DIY bumper plate storage rack is perfect for storing your plates and making them easy to access. It also makes for a nice decoration, as it can be placed in the gym or at home, depending on your needs. Furthermore, it is easy to make and only requires basic tools and materials like boards, bolts, screws, and brackets. When you finish the project, you will have bumper plate storage that is easy to use and will help you organize your garage or gym.
Mobile Bumper Plate Storage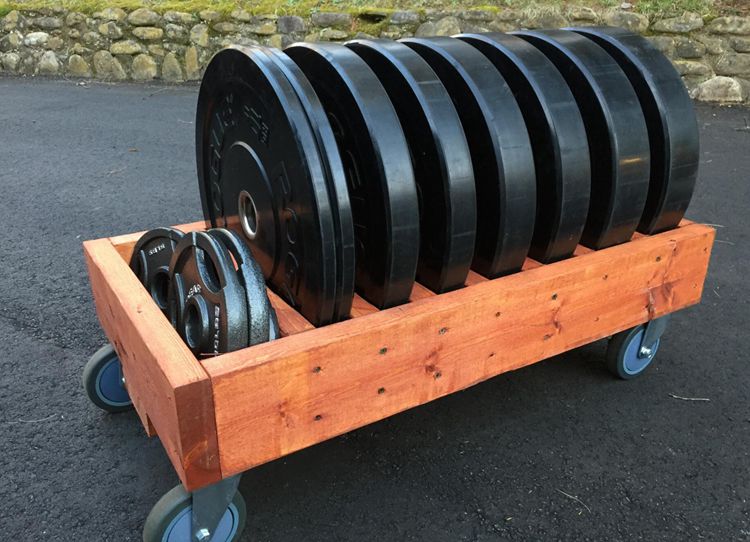 Have you ever noticed a shortage of storage space in gyms and fitness centers? Take advantage of this by using your creativity to design some of your home gym equipment. Here is how to create a mobile bumper plate storage rack from simple materials like lumber and dowels. With this DIY bumper plate storage rack, you can move your plates to and fro after every workout session and keep them safe.
How To Make A Weight Rack
Bumper plate racks are a great way to store your plates. They exactly hold those plates and keep them firmly in place. They make it easy to access the plates when required, so weightlifting gyms heavily use such racks. If you want to organize your bumper plate, this is the video tutorial. They are cheap and very effective in developing strength and conditioning during workouts. The best thing about DIY bumper plate racks is that you can make them using your idea or this simple design.
DIY Horizontal Bumper Plate Storage
Bumper plates are important and expensive equipment in a commercial or home gym. However, they must be stored properly to avoid scratches and damage, so bumper plate storage racks are very important. It is one of the options for using this DIY Horizontal Bumper Plate Storage as a showroom in your gym. It is also easy to build with some time and materials. You can make it in the home with 2x4 inches of nails and wood. After completing your workout, you can conveniently store the bumper plates vertically.
Wall Mounted Plate Rack
Get ready to get your home gym a new look with this durable and sleek wall-mounted plate rack. It's made from wood and tire hangers, which makes it both strong and aesthetically pleasing. Get yours now and get that hands-free workout you have been craving for! This rack can hold up any weight of plates you put on it and is an easy DIY that can be done by everyone who enjoys doing DIY projects at home.
DIY Bumper Plate Storage
Do you want to build bumper plate storage? Well, this guide will help you with simple and basic materials. With these tools and the guide, you can start making your bumper plate storage today! This project is a great way to use old pallets, and since you can find them for free in most places, this is also a very cost-effective way of getting a bumper plate holder. Of course, the building process requires some skill and experience, but once you've finished, you will be proud to show off your DIY bumper storage solution to friends and family.
Bumper Plate Storage Rack
A bumper plate storage rack is a way to organize, store and protect your weightlifting equipment. Here is a simple design for a convenient bumper plate rack that you can use to store your barbell plates where they are easy to find. This bumper plate storage rack allows you to add or remove the columns of plates according to your needs. This DIY bumper plate storage rack has a wooden frame with four wheels on the bottom, allowing you to move it as you need.
Large Bumper Plate Storage
Are you a strength athlete with a garage gym, or does CrossFit? If so, you likely have bumpers in your storage arsenal. You know the deal: when you buy the bumper plates, they come in big heavy cases and are tough to lift. So, why not make your bumper plate storage rack out of wood? Well, here's an easy build tutorial for one. Build a solid bumper plate storage rack made of wood to organize heavy bumper plates. This structure will allow you to store bumper plates on their sides, so they take up less room than a vertical stand.
DIY Wall Weight Storage
Do you want to keep your bumper plates off the ground and on the wall but don't want to pay much for them? This DIY weight storage unit is easy to make and costs less than $50. This project is easy to complete and has a nice modern look. This can be done in your garage, backyard, or basement, where you can set up the wall plate storage. It will not take much space to assemble.
Wall-Mounted Bumper Plate Storage
If you don't have room for a rack or enough floor space for your bumper plates, hanging them on a wall is the next best thing. While building a bench is also an option, this way takes up less space in your room, making sure you can still enjoy all of your exercise equipment and take advantage of the view out of your windows. Here's a do-it-yourself video project that holds all your bumper plates in one place and is easy to build.
Weight Plate Storage
Weight plates are used in a gym for any of your workout or training sessions. To keep things safe, it is important to store them in an organized manner. The result of this is called a "bumper plate storage rack." The DIY Weight Plate Storage Rack is designed to hold bumper plates, but you could also modify it for weight plates. The design allows you to customize the length of your storage rack based on the width of your bumper plates.
DIY Bumper Plate Storage Under $20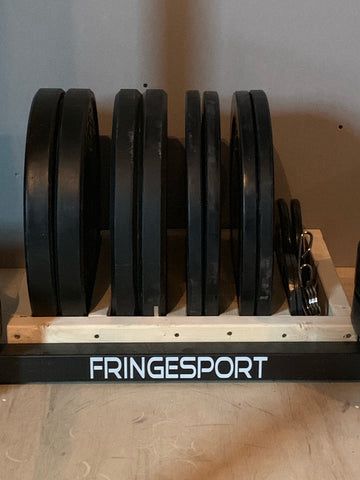 Do you have a bumper plate rack? Are you tired of the metal rattling around when heavier weight is placed on your other bumper plates? Then this DIY bumper plate storage is perfect for you. This project requires very little materials and money, so it's incredibly cheap and easy to do. Perfect for your garage, home, or commercial gym. The construction style of this DIY bumper plate holder rack is very simple and can be done by anyone at any time. Assembling the DIY bumper plate rack is easy once you get past the initial fitting process; it should take less than a day.
DIY Weight Tree
Do you have a garage or home gym and have trouble finding space to store your weights? Here's a simple DIY bumper weight storage rack you can make in the home. This is a way to store plates for a garage gym or if you don't have much space in the house! This DIY weight tree is a great alternative to the traditional cage. The A-frame style allows you to store your bumper plates vertically, fitting more into less space.
DIY Bumper Plate Storage Rack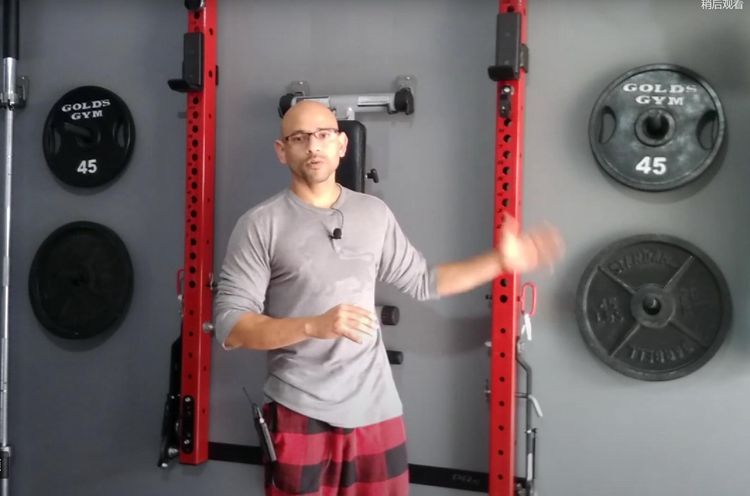 If you want to organize your bumper plates and save space, your search ends here. Here is a simple DIY bumper plate storage rack that can be easily made with inexpensive materials like wooden boards and nails. With its integrated pegs, this unit will keep your plates safely off the floor, making it easier to access them when needed. This DIY bumper plate storage rack is going to do the trick. With this design, you can organize your weightlifting accessories quickly and easily.
DIY Home Gym Weight Rack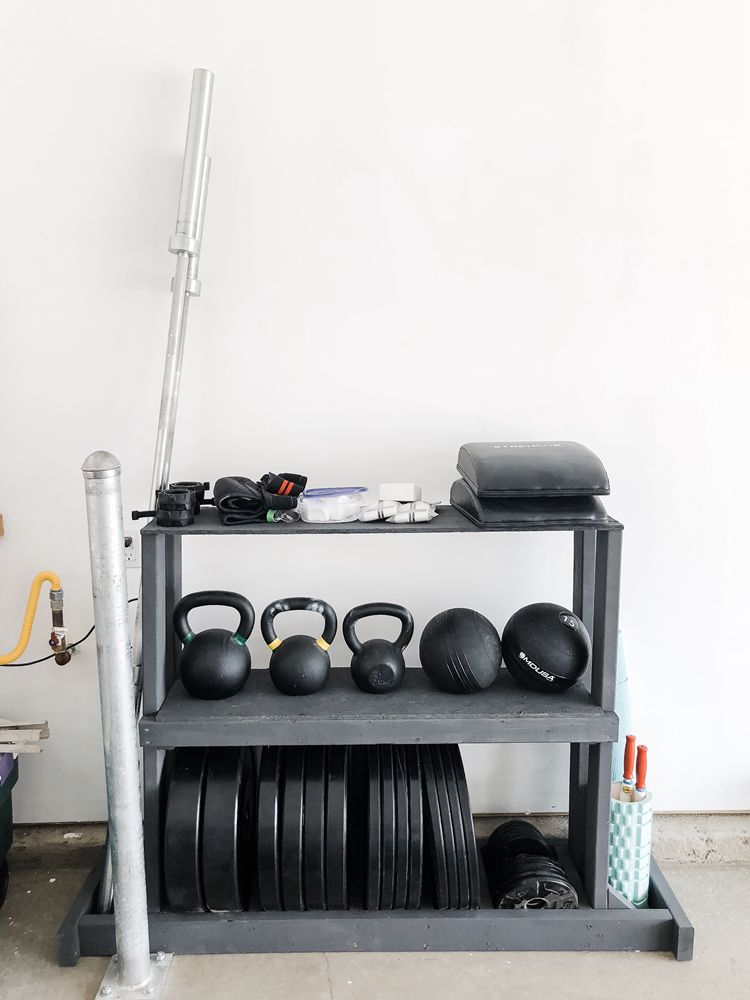 More and more people are going to the fitness center to work out. This trend is because of cost factors and convenience, so why not try something different? Get fit from your home, no more having to join a gym or driving to and from one – now you can have your equipment that's convenient, easy to use, and within reach at any time. The DIY Home Gym Weight Rack is a unique way to build your home gym. It's a convenient DIY project that can fit in with any decor while providing the essential equipment to start an effective home gym.
DIY Plate Box Build
KIDS! Kids can be your best friends. Make the Box Plate Storage Rack with your kids and enjoy an evening of bonding in a constructive activity. You can use it for bumper plates of different sizes. Imagine getting your kids involved in creating their DIY equipment at home. Moreover, it will help them appreciate healthy habits as they see how much effort goes into working out. For this project, you will need wood, a drill, a saw, and some paints. It is a fun activity that improves your strength and helps with problem-solving and working as a team.
DIY Storage Bench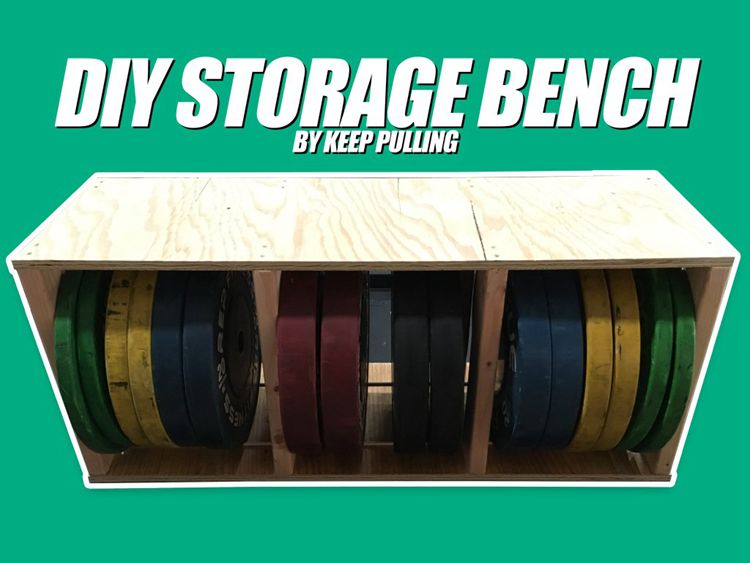 The DIY storage bench is a cheap and quick project to do. The design is ideal for bumper plate storage; however, you could use it to store anything else in your garage or sports room. The materials needed are simple, and you don't need a lot of experience to assemble this piece of furniture. This DIY storage bench is a great way to use your old bumper plates. It's the perfect weekend project to say goodbye to those old rusty dumbbells in your garage.
Easy Bumper Plate Storage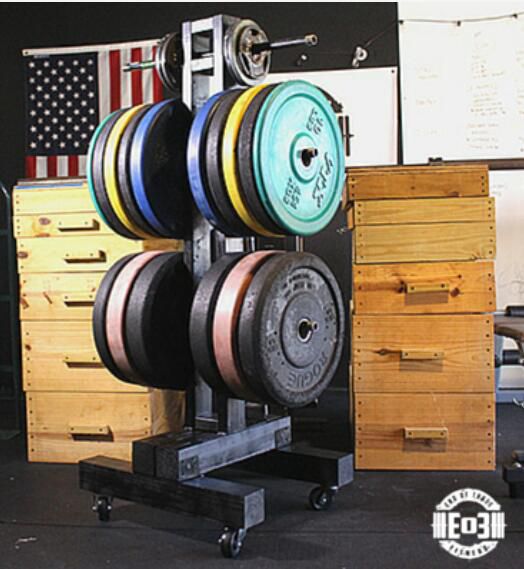 Bumper plates are one of the best assets you can ever make for your workout routine. You can enhance your weight-lifting strength and speed up your muscle mass-building plan with just a couple of these amazing plates. With great efforts, it is finally time to store these amazing strong iron plates. This is a simple yet very efficient way to store your bumper plates. It saves a huge amount of space and increases their life because they remain in it.
Bumper Plate Toaster Rack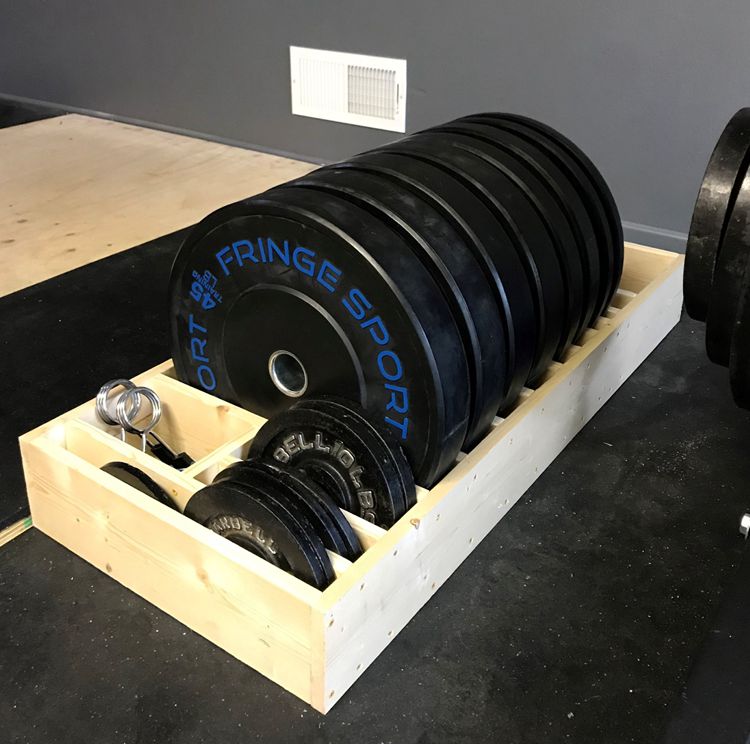 Do you want to put up a bumper plate toaster rack in your gym but cannot find one that differs from the others? Well, then, this DIY guide could help you with that. Made from wood and a few basic tools, it doesn't take long for you to build one yourself that looks exactly like this or better. This is an awesome DIY video tutorial on making a bumper plate toaster rack for your gym. It makes your workout more fun and accessible, which will be vital in improving your performance. The project is pretty easy and looks beautiful with an optional paint finish.
Weight Rack Storage For Plates
Look, you are on the way to getting fit and healthy, and what's going to make all your workout efforts worth it? A successful home gym! The only thing is that most people tend to create a mess when they start building the space. This awesome DIY video tutorial will teach you how to organize everything in your home gym to look larger than ever. It is super easy to make, beautiful, and, better yet, very strong, and will surely add more aesthetics to your gym.
Cheap And Easy Weight Rack
If you are working out at home and want to keep your workout gear organized, it is important to have a space where you store all your stuff. A bumper plate storage rack provides a great space to keep all your weights in one convenient place. You can make the Weight Rack yourself by following this DIY tutorial! Building your weight rack might be a bit easier than you think. This DIY bumper plate storage rack can be made at home with the help of wood and some basic tools. Measuring and cutting parts, assembling them, and fitting them properly will make a sturdy storage unit for your weight plates.
DIY Weight Plate Storage Rack
Are you looking for a way to store your bumper plates? This DIY weight plate storage rack can be used in the garage or your home gym. All you need is a few screws, nails, and brackets. No matter what type of bumper plates you have - rubber or steel, Olympic or standard this rack will hold them all! It's strong enough to hold more than twelve plates at a time.
Customized Plate Storage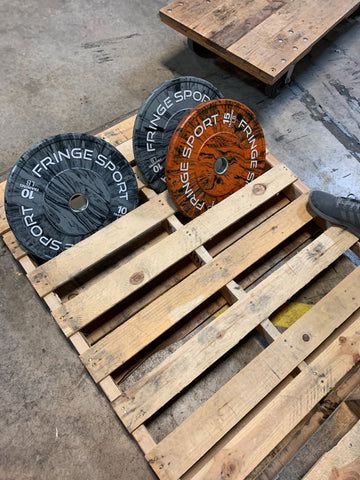 Padded bumper plate storage racks are very useful for those who are serious about their fitness regimen. They make hauling around plates easier, keep them safe and secure, and also keep your floor clean. You can learn today how to make a bumper plate storage rack using an old pallet. You have to grab a pallet, paint it any color, and add some labels on the sides. When it's finished painting, attach your bumper plates to the storage rack so they do not move around.