13 DIY Bottle Cap Craft Ideas For Kids
Imagine sitting by the fire, sipping hot chocolate from your favorite bottle. The drink adds a warm and cozy touch too cold winter nights. Bottle caps have been made into many different things, including toys for children, hanging decorations for your home and jewelry for adults. Bottle caps can be much more than your drink's finishing touch. Learn how to turn those bottle caps into crafts — from jewelry and bookmarks to a fantastic finger puppet. These DIY Bottle Cap Craft Ideas are great for kids and adults alike!
Easy DIY Bottle Cap Craft Ideas

Bottle caps are often overlooked and thrown away. Why not create something really cute? Bottlecap crafts are easy to make and will save you money, plus they are fun to make and give as gifts. So grab some bottle caps, and let's get started crafting! Bottle caps are just waiting to be transformed into something beautiful. Use them to decorate a lamp or plant, make jewelry, or create fun games for the kids. Whatever you choose, we're sure you'll love it!
Tips to DIY Bottle Cap Craft Ideas
Bottle caps are a fun, easy way to add personality to your home. Here are some tips for DIY bottle cap crafts:
Use a toothpick to poke holes in the center of the bottle cap. Make sure it's big enough for a string or ribbon to fit through.
Paint or decorate the bottle cap before gluing it on! If you do this first, it will make your project look more professional and finished.
Use hot or super glue to attach the bottle cap to your project. The key is to put just enough glue to hold it together but not so much that it bubbles up over the edge of the cap or drips down onto your project surface!
Bottle Cap Table With Poured Resin Surface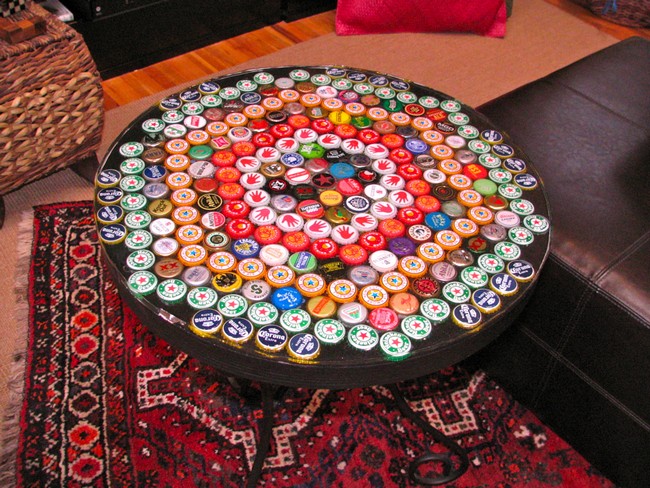 Create a unique table with this poured resin surface and bottle cap table top. This creative approach uses recycled materials to create an attractive, one-of-a-kind piece. This Table is an eye-catching piece of furniture. The Bottle Cap Table is an industrial take on the Table using recycled bottle caps. It is made from building materials that would typically go to landfills but instead are repurposed into a unique piece of furniture. This Table is also a great way to add style and character to any space, wherever it may be used. If you want to make this on your own, follow this step-by-step tutorial.
Bundled Bottle Cap Snowmen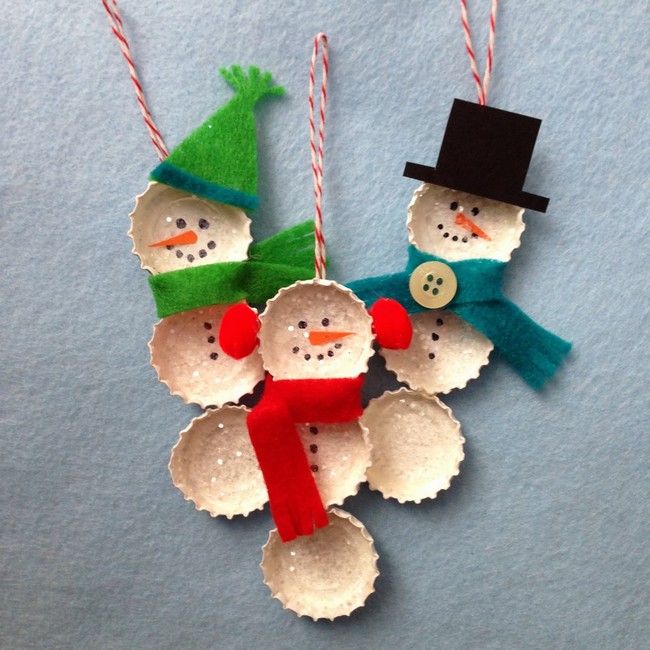 Create a winter wonderland on your desktop with these bundled bottle cap snowmen. These little guys are great for any beverage but look incredibly adorable next to your holiday drink. These adorable snowmen are made using a fun and easy technique. The use of bottlecaps creates a beautiful texture, giving each one character. This is a perfect accessory for any holiday decor; they are quick and easy to make! These fun and unique handmade bottle cap snowmen ornaments are also a great addition to any Christmas tree. You'll be amazed at what you can make with these bottle caps!
Beer Bottle Cap Crafts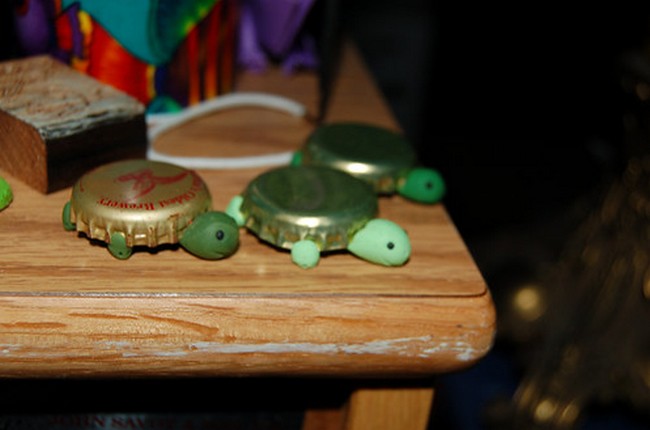 Looking for a fun craft idea? These Beer Bottle Cap Crafts are for you. Craft a fun craft and recycle at the same time. Beer Bottle Cap Crafts will be the best thing you have ever done with your time. It gives creative ideas on making new crafts out of old beer bottle caps or paint chips. You can recycle the beer bottle caps and come up with some beautiful crafts which you can give as gifts to your friends, family or guests who visit your home. Everyone has some beer caps lying around, so go ahead and try this project to create one-of-a-kind works of art!
Bottlecap Bunting
Make a statement with the Bottlecap Bunting! This handcrafted bunting adds an extra bit of flair to parties and weddings. Use various colors, shapes and sizes to add flair to your party decorations. Hang it on your wall, above your bed or across the doorway to create an atmosphere that is fun, happy, and full of color! It's easy to assemble and makes a lovely project for any special celebration, whether it's a birthday party, a baby shower, or an anniversary. This easy DIY craft makes a fun reusable garland to add crafty flair to a party space year after year.
How To Make Bottle Cap Flowers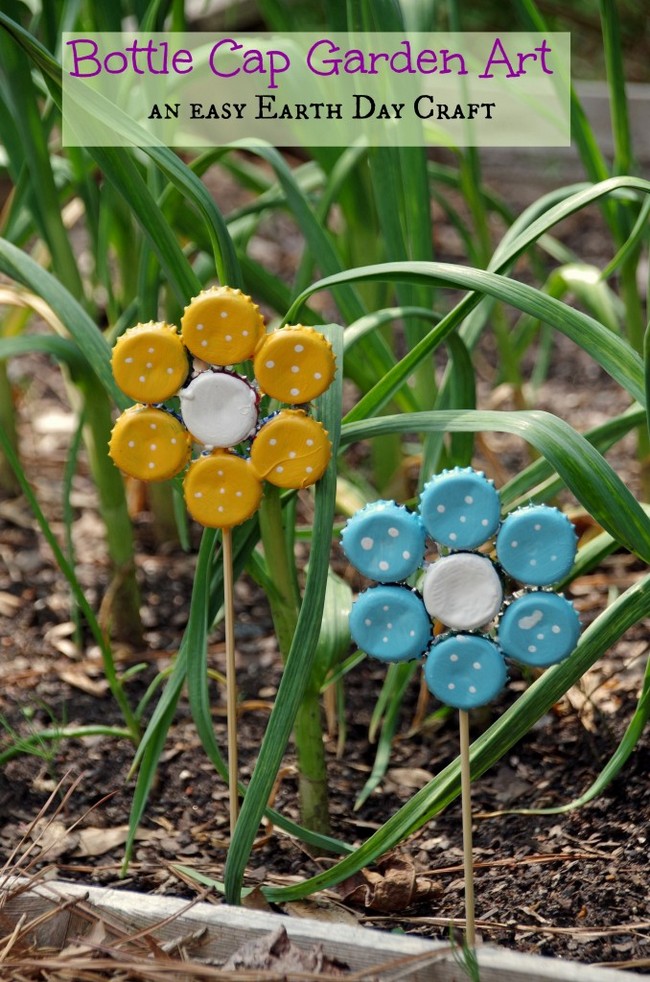 Looking for a fun, decorative way to display your flowers? Try a Bottle Cap Flower! Bottle caps can be used for a variety of crafts. An everyday use is to make bottle cap flowers, which are easy to make and add a bit of color to your home. With some simple materials, you can make these Crafts with Bottle Caps that look great on a shelf or as decoration. This easy DIY craft project is perfect for adding a pop of color to a party or floral arrangement. You can make a variety of bottle cap flowers with this step-by-step tutorial.
Bottle Cap Rattlesnake Craft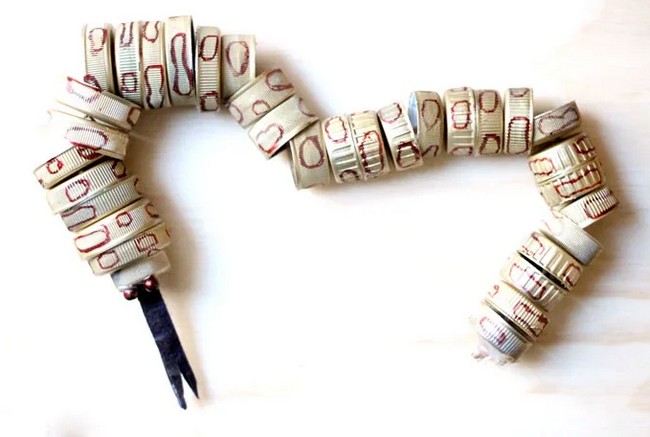 Toss in a few rattles, and you've got a striking piece of art that rattles even more. This bottle cap rattlesnake craft is simple, easy, and super fun! You'll be able to create this adorable reptilian craft all on your own. This is a beautiful project for beginner crafters, perfect for friends or family who love or want to learn about snakes. This Bottle Cap Rattlesnake Craft makes an excellent centerpiece for the Table! It adds an extra touch to your dinner party or weekend barbecue. You'll have a lot of fun making this project, and your kids will love playing with crafts.
Dump Truck Softie With Bottle Cap Wheels
With this dump truck softie, your little truck will love taking on the big jobs! The perfect gift for your little environmentalist! Soft and cozy with a unique design and durable construction, this dump truck will be the perfect addition to your child's toy set. Perfect for imaginative play, this softie will surely be loved by any toddler. This soft, warm-hearted dump truck is perfect for little ones to cuddle. Not only is it a delight to hold and hug, but the elasticated straps on the underside make it easy for little ones to play with independently while also developing early hand-eye coordination skills.
Bird Puppet Craft Easy Bottle Top Craft
Make a colorful bird puppet with this craft activity. Make a bird craft for your child, family or friends by following this step-by-step tutorial. All ages, including toddlers, children and adults, can enjoy this fun and easy craft! They will love creating and then playing with their puppets! This craft can be assembled over several days, or if you prefer, everything is attached and ready to start making the bird once you open the box. This can be a great craft project they can repeatedly do.
Plastic Lid Monsters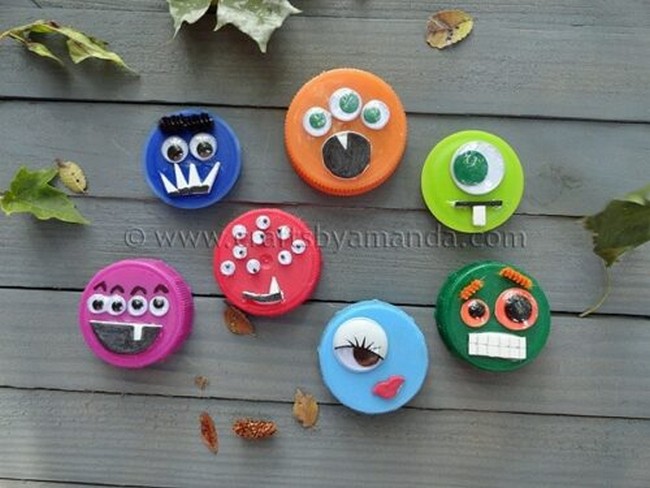 Get ready to have your mind blown by these plastic lid monsters. These fun-to-play toys are sure to bring smiles to kids and adults alike. They can be used as lids or scary creatures who love to scare away flies and hide small toys! These are funny and colorful toys to keep your small children busy. Lightweight plastic lid monsters can be used as rattles, teethers, or mirrors to capture babies' attention and keep them engaged. These monsters are sure to bring back great memories. Here is a step-by-step tutorial to make this on your own.
Bottle Cap Necklace
Wear your favorite brew with this easy-to-wear bottle cap necklace. This beautiful necklace adds a unique touch to any outfit and is also an excellent conversation starter! You can wear it as an everyday piece or dress it up by pairing it with a simple but elegant top. This Bottle Cap Necklace is a way to style your favorite fashion trend from the craft beer world. It's handmade with a genuine, recycled bottle cap. The finished result is a durable accessory that looks good, feels good and supports a good cause. Follow this step-by-step tutorial to make this on your own.
Stunning Bottle Top Snowflake Decorations
Decorate your Christmas tree or Table with these gorgeous Bottle Top Snowflake Decorations. They feature a snowflake design and are perfect for adding a touch of sparkle to any party or celebration. These stunning bottle-top snowflake decorations are a lovely decorative addition to your Christmas tree. These are perfect for that extra sparkle, and you can hang them from the top of your tree, on a branch or in a glass window display. Easy to assemble, use essential tools, materials, and step-by-step tutorial and slip on the snowflake decoration.
Bottle Cap Rudolph Ornament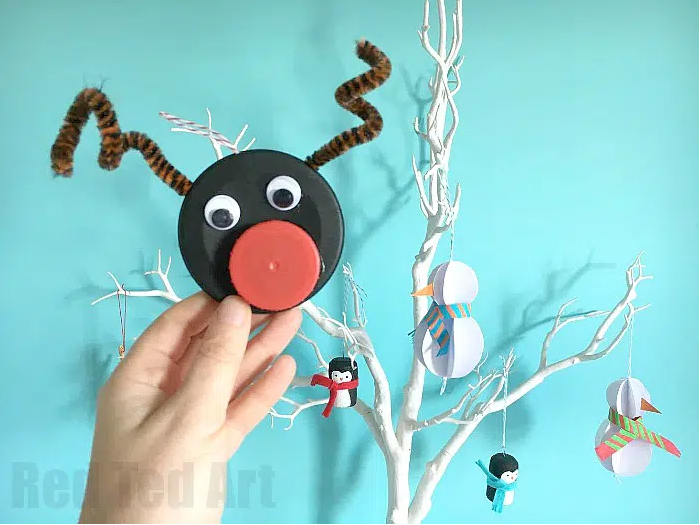 Create your happy holiday display with this Bottle Cap Rudolph Ornament. This ornament is best to a bottle cap, allowing you to add personality to your Christmas tree. Bring Rudolph along on your tree or home with this cute bottle cap ornament of various colors. You can add classic holiday cheer with this Bottle Cap Rudolph Ornament. Rudolph will brighten your window centerpiece, tree or mantle with its festive demeanor. You can make this on your own by following this step-by-step tutorial.
Bottle Caps Holly Craft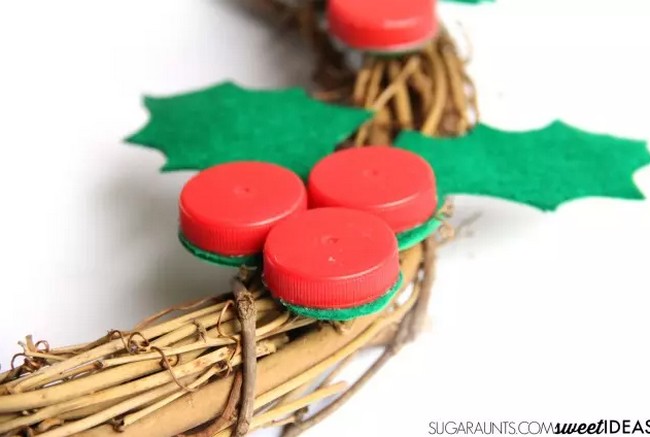 Make your holiday decorations pop with this Bottle Caps Holly Craft! This is easy to follow project and adds significantly to indoor and outdoor decorations.  You can add another dimension to your Christmas decoration or create an inexpensive yet high-quality gift by making something beautiful that people will hang on the wall and enjoy for years with this Holly Bottle Cap Craft. This tremendous life-size holly leaf craft is easy for any child to complete. You can make this independently with essential tools and materials and this step-by-step tutorial.