Bluebird houses can be a fun and creative way to bring nature into your yard or home. If you're looking to attract bluebirds to an area they haven't been visiting, a small house made from wood scraps is the perfect place to nest, lay eggs, and raise their chicks. If you want to make your own, We've found different ways to get started on your own DIY bluebird House Plans. Some involve using simple materials like cardboard boxes and plastic cups; others involve adding decorative touches or building a house out of recycled wood or metal. They all share the same goal: providing a safe, comfortable place for birds to live. We hope this list will give you plenty of ideas for your project!
Free Bluebird House Plans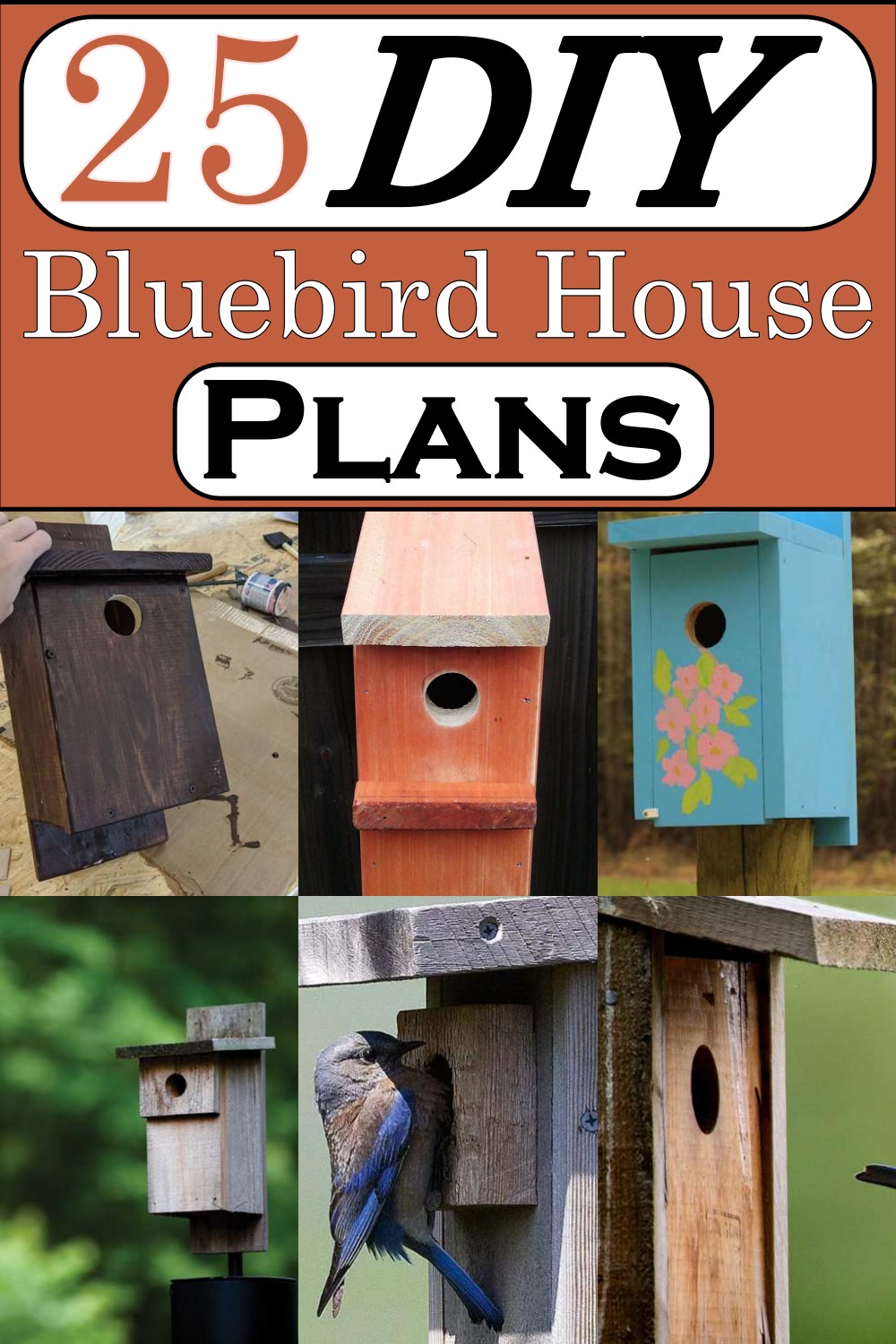 Bluebird houses are lovely additions to any yard and make great gifts for the bird-lovers in your life. It doesn't take a lot of time or money to make a simple birdhouse, and there are many different plans available depending on the size, materials, and style you want. Some bluebird house plans have instructions for building nest boxes inside, while others use an external mounting location. If you're making a DIY bluebird house as a gift, you might want to consider what the recipient would prefer. You can also make your own birdhouse gift by attaching a personal message!
Below are some unique DIY Bluebird House Plans for you to make; Find the perfect bluebird house in no time with this collection of 25 DIY bluebird house plans.
You Can See: 20 DIY Treehouse For Kids To Have Fun Camping
How To Build A Bluebird Nestbox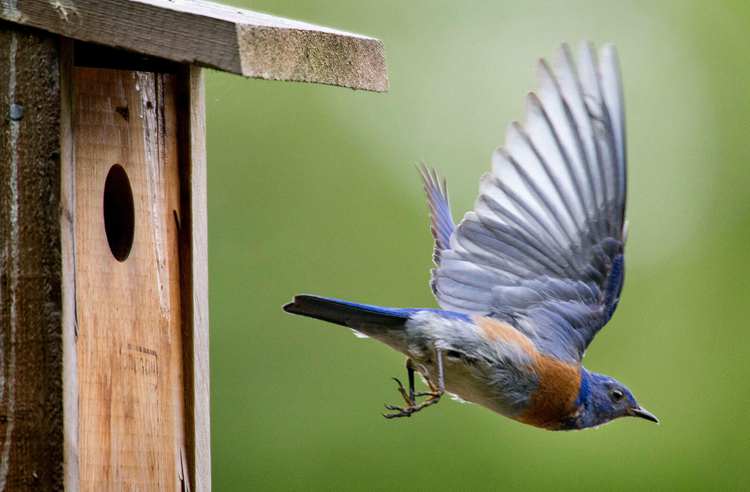 This simple bluebird box is great for any backyard or garden. The nestbox doesn't require wiring or a foundation like some bluebird house designs so that it can be moved around your yard. Building a Bluebird House is a fun project for the whole family. It will take you about two hours to complete this nest box, and during that time, your kids can help collect materials and decorate by using whatever colour paint they want. The result is something beautiful that can be enjoyed for years to come.
DIY Bluebird House For Garden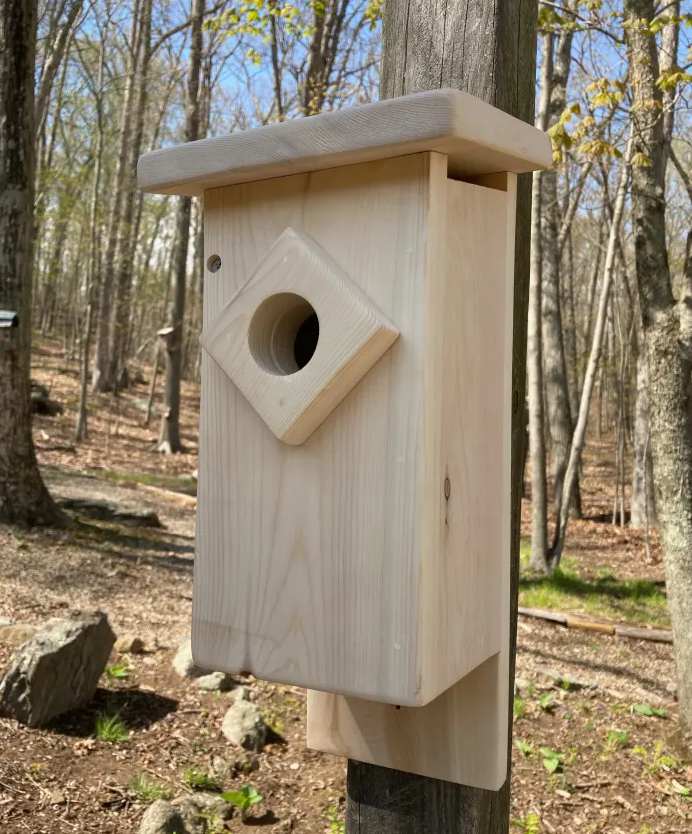 If you have a free weekend, this DIY birdhouse can be a perfect choice for you to get started. It is easy, safe and fun to do. In addition, it can help you attract more birds to your garden with just a small amount of money and effort compared to other methods that require much more resources. This project is fairly easy to build and uses the right materials. Once you have your materials, you can start building your own Bluebird House and attract these sweet little birds to your backyard.
DIY Inexpensive Bluebird House
Making a bird house can be a very rewarding project. Building this bin for the eastern bluebirds is simple and affordable, requiring only a few materials and tools and looking for an inexpensive DIY project. Learn how to build a bluebird house from scratch with just some scrap wood, roofing nails and a little paint. You'll learn how to build an inexpensive bluebird house in this video. This is a great project for beginners of all ages and only takes about 1 hour.
DIY Bluebird House Plan
If you enjoy seeing birds, especially bluebirds, at your home, then this DIY Bluebird House Plan is perfect for you. The video will show you how to build a bluebird house that provides birds with a safe place and raise their young. If you are not the type who likes to get your hands dirty and try new things, this video will encourage you to take on a new challenge! The video contains additional information about bluebirds and their needs.
How To Build A Bluebird
Choose the style you want for your bluebird house. Build it to be assembled and disassembled if you move it or make it permanent. You can build a bluebird house as big or small as you want, but remember that bigger houses attract more birds and provide them with more protection. Learn how to build a bluebird house that your feathered friends will love in just a few easy steps! This video will teach you three bluebird house styles, including making an entrance hole, shape siding and using materials. Watch this video today.
How To Build A Bluebird House
Do you love birds? Are you looking for a project to do with your kids? Learn how to build a bluebird house. This bluebird house is perfect for beginners in woodworking. Once you know the steps, the finishing touches only take a few minutes, and your creation will be ready to host some beautiful bluebirds. In this video, you will learn how to make an attractive, simple box to attract these lovely songbirds with simple tools and materials.
DIY Bluebird House Using Popsicle Sticks
Are you looking for a unique bluebird house idea? This popsicle stick birdhouse is a great alternative to expensive wooden houses at the store. This bluebird house will attract dozens of birds and make your yard a beautiful place for them to live. This easy-to-follow tutorial shows you how to turn ordinary popsicle sticks into a stunning home for your new feathered friends. It's also a great project for children who love crafting and building since it involves both skills. This project requires minimal tools and time and can be assembled by amateur carpenters.
DIY Bluebird House Plan
This project is for you if you have some tools and basic shop knowledge. Everything you need is included in this video tutorial. You can make this DIY birdhouse in a day! This house will be a great addition to your backyard and easy to build. Use it as a summer home for your favourite bluebirds. According to the instructor, you can use these houses with many trees or tall bushes in any area.
How To Build A Bluebird House
If you love to see bluebirds in your yard, building this easy-to-assemble bluebird house will help them feel right at home. You can build it in less than an hour and attach it to your house with a screw gun or by drilling holes and driving small screws. You don't need an advanced degree in carpentry or previous experience building bird houses to create a successful home for your feathered friends. Just follow these simple steps in the video and ensure you have the right tools.
DIY Build Bluebird Box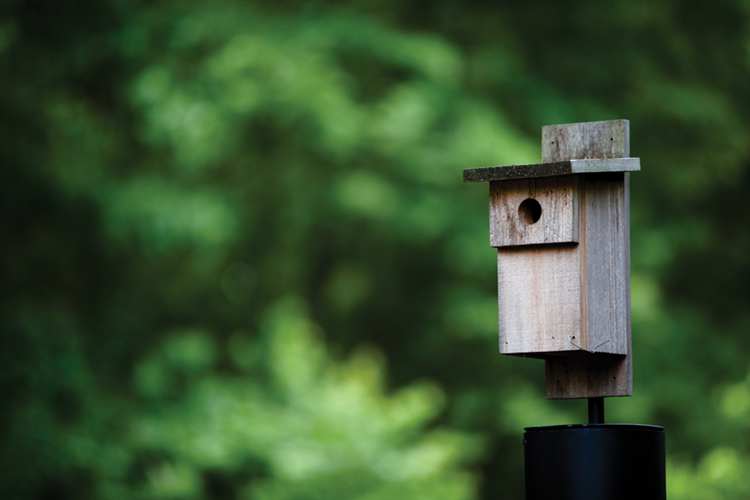 The bluebird house you will make is a simple construction of scrap lumber that's probably in your garage. Use any wood but keep in mind that plywood is not acceptable because it has been treated with a chemical preservative. Start by measuring your box, then layering three pieces of wood for each section. Use wood glue and screws at each joint to ensure this bird house remains sturdy. Once you have cut the pieces and assembled them, it is time to drill holes for ventilation.
Free Bluebird House Plan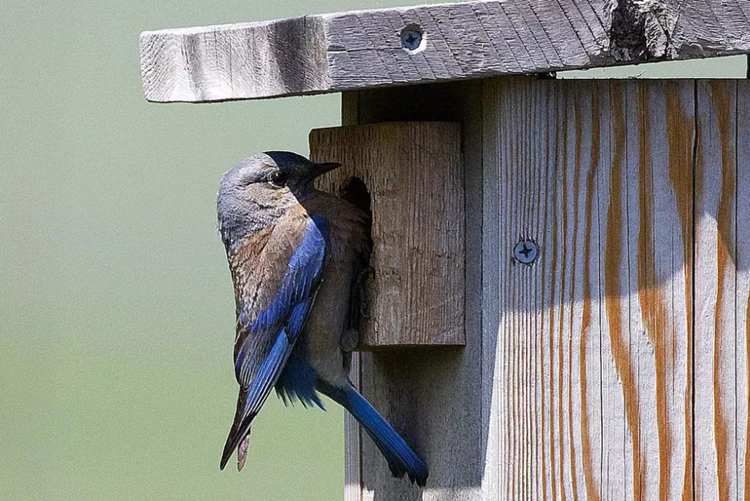 One of the popular methods of attracting bluebirds to your yard and getting them to nest is to build simple houses that provide just enough space for a pair of birds to raise their young. This easy project can be conducted in a few hours and will give you years of enjoyment as you watch the parents take care of their young. This free bluebird house plan is easy to build and requires only basic carpentry skills. The spacious design features a large front entrance, two rear openings, and some perches. The single-piece roof has an overhanging edge at the back for protection from predators.
Simple Bluebird House Build
Have you ever heard the lovely songs of bluebirds? They are one of the most cheerful birds, friendly, and like places to make their homes. To attract them check out this DIY Simple Bluebird House Build. Make some bird houses for your yard and hang them in different trees. This is a very quick project that attracts many songbirds to your property! This simple birch plywood bird house is an easy project for beginner woodworkers!
DIY Bluebird House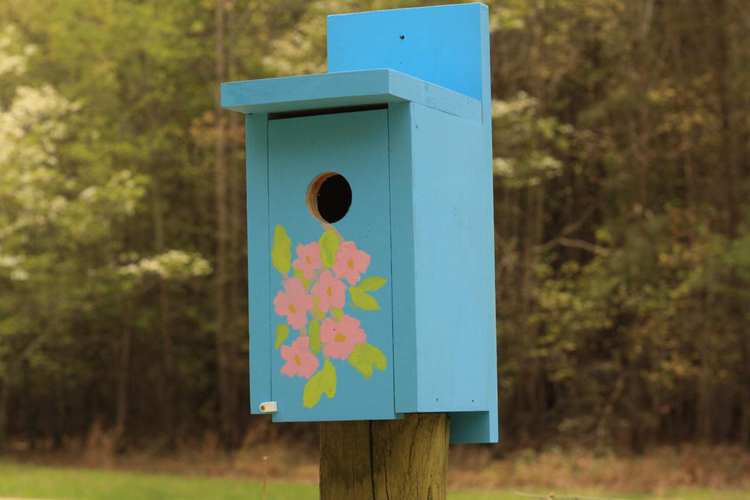 Assemble this beautiful bluebird house, which is a great gift for the whole family. It's also ideal for mom and dad who love to hang out in their garden, relax on the porch or enjoy a warm summer breeze. The Bluebird House attracts bluebirds, finches that will provide food for the mother bird to feed her babies. It doesn't require any expertise level. All you need is simple tools and materials, and follow the step-by-step instructions below to build your own Bluebird House!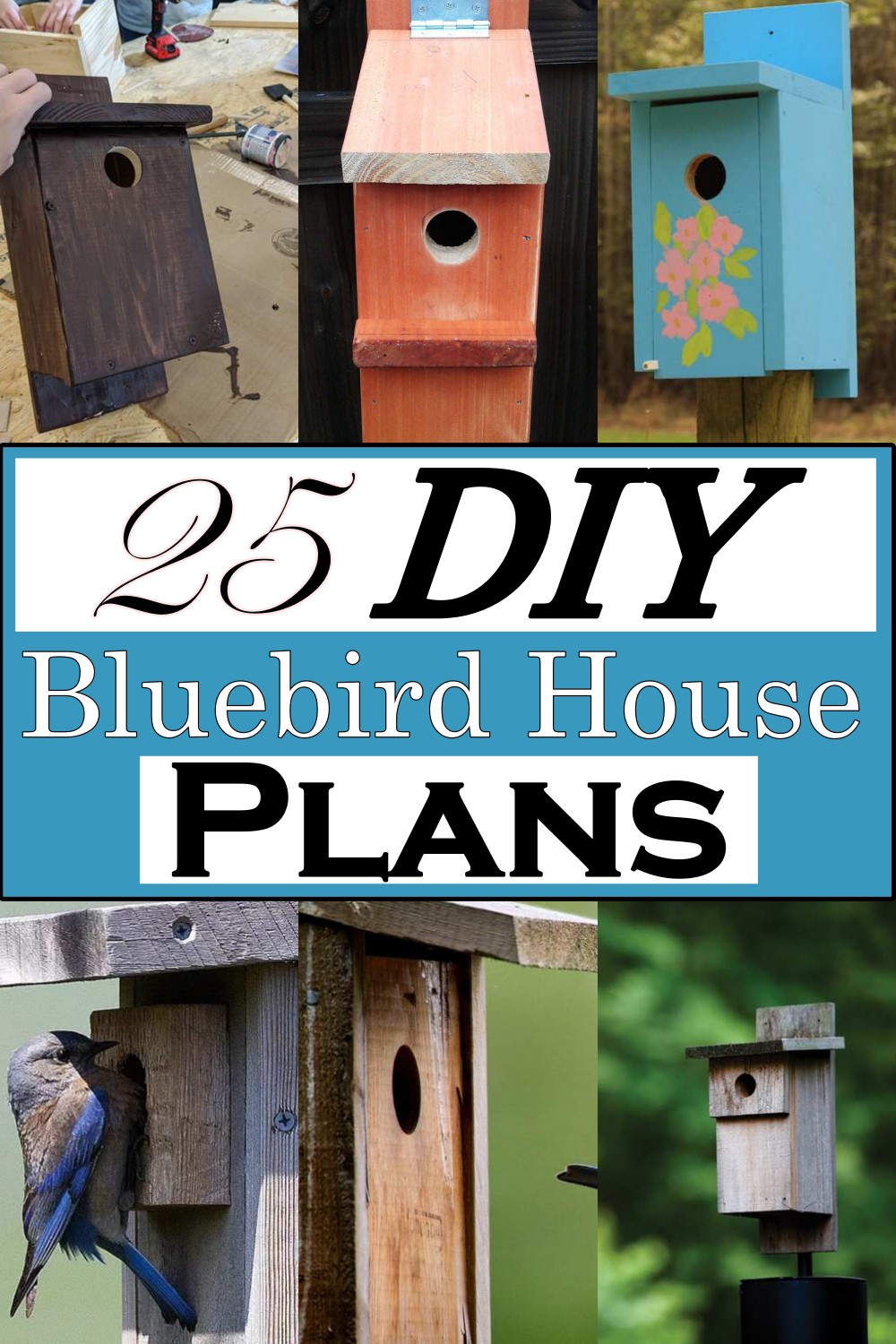 Eastern Bluebird House From Hand Tools
Build your own Bluebird House and watch the birds flock to it! This handcrafted wooden house provides a unique haven for bluebirds and other native species. It is easy to assemble and includes all the parts needed to build it. Instructions and a list of materials are included to complete the project. The Eastern Bluebird House from Hand Tools is a simple build, making it ideal for the first-time birdhouse builder. The popular house design features a natural shingle roof and a hanger for easy installation.
How To Build A Bluebird House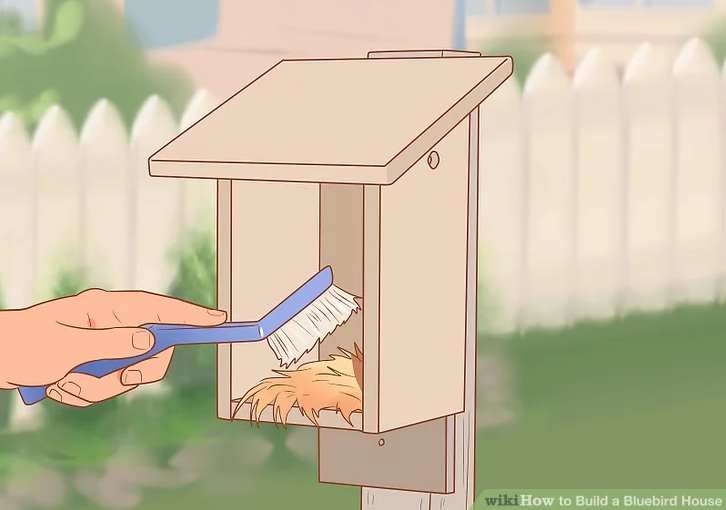 If you love to watch bluebirds and other birds in your garden, this project is for you. This bluebird house is easy to build yet sturdy and stable. You can build a bluebird house out of wood with just a few simple tools, and it's a fun and educational project. Cut three pieces of wood into the various parts of the birdhouse, assemble those parts and top off with a few finishing touches like a rope ladder or gravel for drainage. You'll watch little birds fly into your yard from all over (relative to each other).
How To Build A Bluebird House With Slot Entry
This description will show how easy it is to build a bluebird house that attracts these beautiful creatures. Please note that these bluebird nests are simple to make with the right materials and give the female bird a comfortable, safe place to lay eggs and raise her chicks. You can use old packing boxes or even take short pieces of wood left over from other projects and nail them together. It has a slot entry, making it very easy for bluebirds to move in and out of the house.
Building A Bluebird House With Miter Saw
This video guide will show you how to build a bluebird house with a mitre saw. You can make a new house for the birds yearly or build an entire bird aviary; the choice is yours! The difficult part of this project is cutting out the pieces and fitting them together. Once that is done, it's just a matter of assembling them. Watch the video to build the birdhouse and add a protective cover.
Easy Bluebird Box DIY
Make a statement with this beautiful Bluebird House. Easy to build, you can customize it with your favourite stain or paint colour to match your outdoor space or leave it natural and add a bit of wildflower in the back. This charming box brings nature to your door and encourages our feathered friends to stay awhile longer. You'll need wood and wood glue, screws, a drill and screwdriver, sandpaper, spray paint or other stains/paints of your choice.
DIY Bluebird House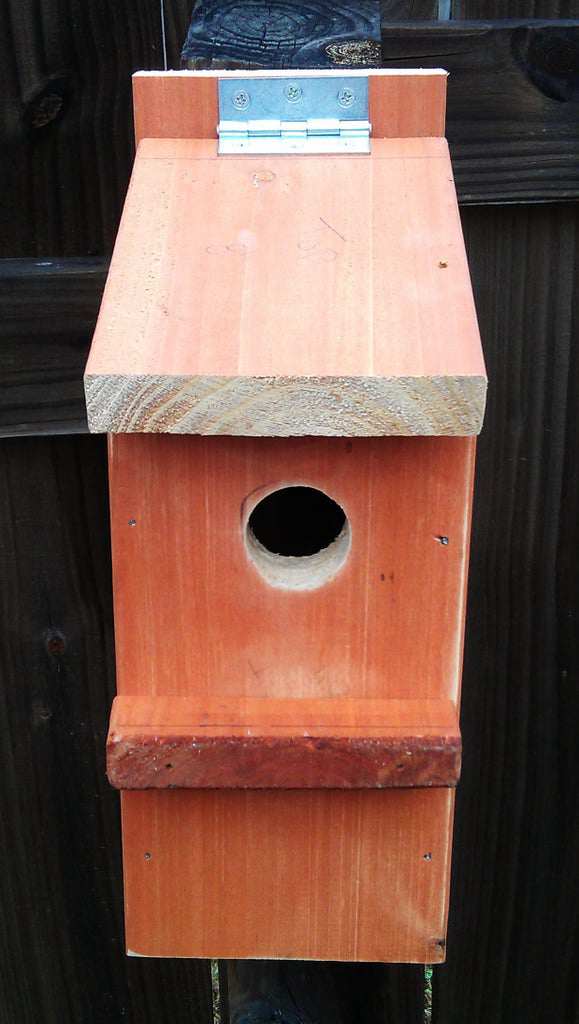 Want to attract birds to your yard and garden? This bluebird house is easy and affordable but will attract many birds to your yard and help you achieve a beautiful landscape. With easy-to-follow instructions and diagrams, this house can be made in no time and mounts easily to the side of a building. It is easy to clean out and adds greatly to any yard or garden area. All you need are 5-foot boards and some tools. It will look fantastic in your yard and is the perfect way to welcome beautiful birds in spring.
Bluebird House DIY
This little bluebird house will be the perfect way to get your young one into nature. The materials are easy to get, and you can make them with a simple step-by-step guide. Make sure to use this opportunity and teach your young ones the value of nature and how to appreciate it. You will need a ruler, power drill with parts, stain and painter, saw, screws and pencil. This bluebird house can be a fun project for both adults and kids.
How To Install A Bluebird Nest Box
To start, you will need to choose the tree in your backyard where you want to install the nest box. Make sure it has a clear view of the sky. Next, you measure the width and height of the tree trunk. Then drill a hole into the tree, which can accommodate the size of your bluebird nest box. The video above explains how to install a bluebird nest box in detail. A simple process that should take no longer than 30 minutes, this tutorial gives you all the necessary information to know before and during your installation.
DIY Cedar Bluebird House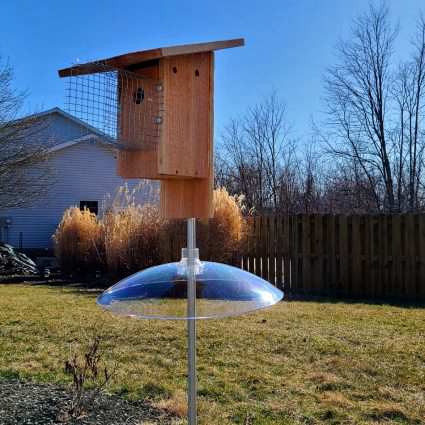 A cedar bluebird house is a perfect home for these lovely songbirds, who will make a great addition to your garden. These amazing DIY plans start with a simple plan that guides you through each step of building this birdhouse, from cutting the wood, drilling holes and installing hardware. After finishing the birdhouse, all you have left to do is screw on its roofing and hang it somewhere close to where you want to see bluebirds coming back year after year. The tutorial will help you to build a beautiful cedar bluebird house that looks nice in your garden or backyard!
DIY Bluebird House Plans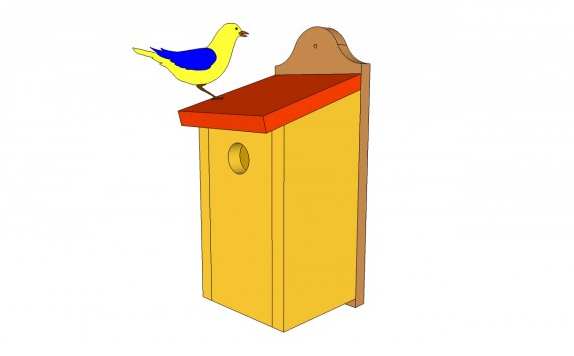 Do you need a simple bluebird house plan so that you can get your kids involved? Bluebirds are beautiful birds, and their addition to your backyard is a great way for the whole family to enjoy bird watching. Bluebird houses are easy to make, take less than an hour, and can be built using simple tools — this project is great for anyone who loves woodworking or appreciates the sight of bluebirds in their garden each spring.
$5 Bluebird House
The Bluebird House is a free project that anyone can easily make with basic woodworking skills. The materials are inexpensive, and the house is easy to build but durable enough for many years of use. You will need simple tools and a few supplies, and within less than five minutes, your home for bluebirds will be complete. This is also a great way to motivate children to explore their creativity while learning an important lesson on sustaining nature.
Bluebird House Plans Without A Drill
Are you looking for a unique and easy way to attract bluebirds to your yard? Here's a simple, easy-to-make bluebird house that doesn't require drilling. You will need a hammer and saw, a couple of old pieces of wood, and some healthy joints, which would be so easy to make! Watch the video for more information about building this small bird house. The design allows you to build a vent hole in the front of the house by cutting an opening in the front panel, so there is no need to drill through multiple pieces of wood!