Are you thinking about biking around town with your kids? Do you want to take them on a picnic? Do some shopping? Or, maybe you'd like to get some fresh air and exercise. If so, you've probably considered getting a bike trailer, but that's not all—you can also easily make one yourself! Bike trailers are great for many reasons. They allow you to carry extra cargo. These DIY Bike Trailer Ideas can be a way to introduce kids to biking. They can also be intimidating, especially if you haven't built or used one. The good news is, building a trailer is as easy as it sounds—it just takes a little know-how and the right parts.
DIY Bike Trailer Ideas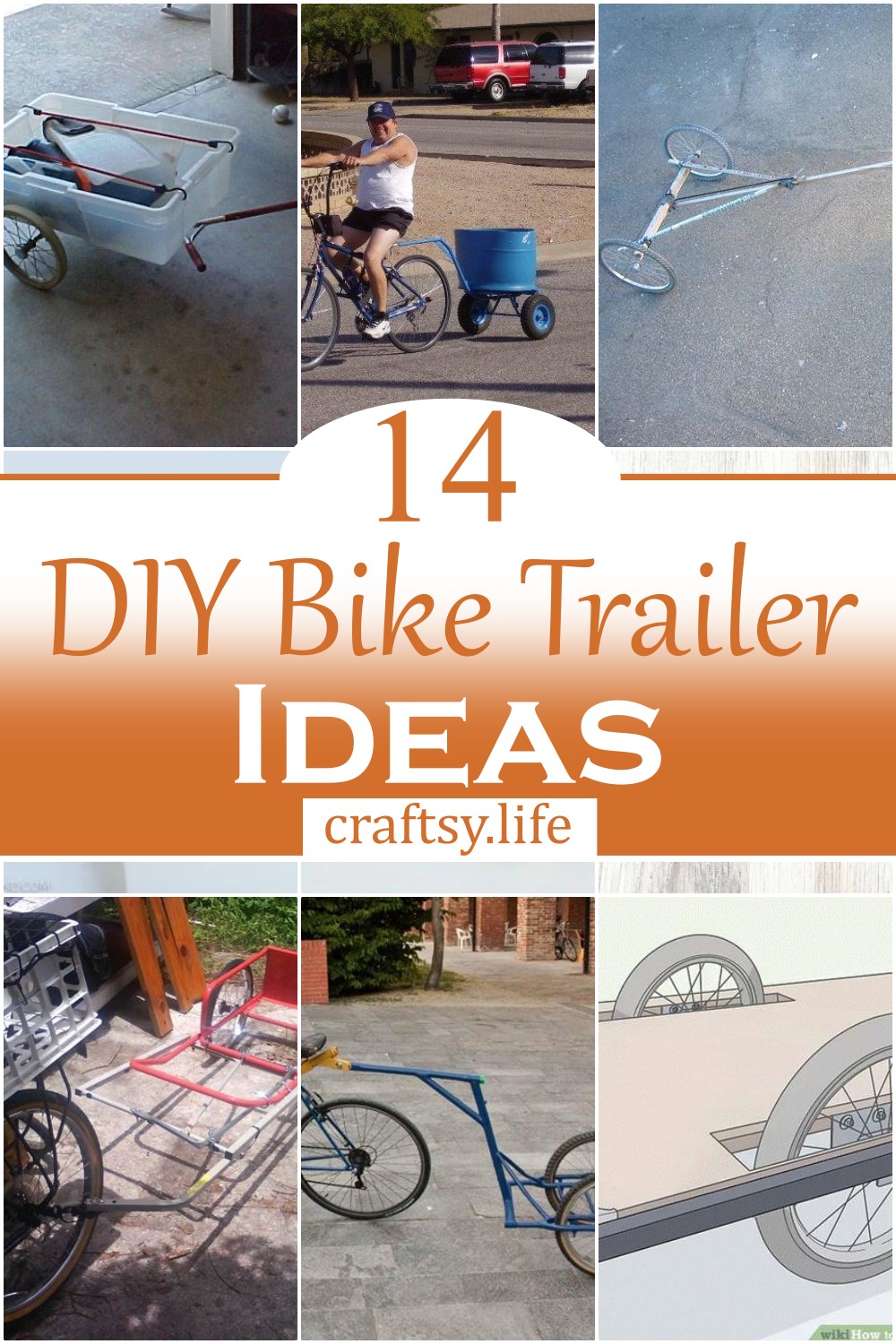 Bike trailers make hauling large, bulky, or heavy items simple, whether it's an afternoon of yard work or a trip to the grocery store. They're made in many different styles and sizes, with carriages that can accommodate everything from kids to groceries. Plus, they're a fun and easy DIY project that can save you money if you need one for your bike. Many are straightforward enough for anyone to make in just a few hours. Here are DIY bike trailer ideas to get you started on your custom creation.
Benefits Of DIY Bike Trailer Ideas
The DIY bike trailer is a great way to transport your children and other people. It is also a great way to save money. The following are some of the benefits of using a DIY bike trailer:
Saves You Money: When you purchase a bike trailer, you can save money compared to renting one. This is because you can use it for many years, making it a good investment. Using it for camping trips is even better because it will be worth more than saving on rentals.
You Can Make Your Design: You can make your design the bike trailer and make sure that it meets all your needs and preferences. If you want something with more storage space or something that looks better than what is already available in stores, making your own can help.
It Is Easier To Handle: Compared to other modes of transportation, this one is easier to handle, especially when carrying children around because they are lightweight and easy to move around with. You do not have any extra equipment needed for this type of vehicle, so there will be no need for any extra expense at all!
How To Build A Bike Trailer

Do you like to ride your bike? Bike trailers are a great way to get more cargo and passengers on your bike. This DIY trailer is made from easy-to-find materials that can be assembled in just a few hours. Follow these simple steps to make one of your own. This project will show you how to build a simple, sturdy, affordable cargo bike trailer. You can use it almost any way: for hauling things or as a tandem bike. It could be used as a feeding table for kids or maybe even have a wooden tabletop built onto it for camping.
DIY Cart Bike Trailer
Suppose you want to expand the capacity of your highly-portable welding cart and don't want to spend big bucks on more expensive, professionally-made trailer options. In that case, you can build one at home with our easy-to-follow instructions. This DIY project shows you how to build a sturdy cart bike trailer by combining different carts: a welding cart and an existing kid's cart. The instructor walks through each step, ensuring that the process doesn't require specialized knowledge. As a result, this simple setup is great for families with kids who need to transport something bulky but not too heavy!
You can also see: DIY Camper Trailer Ideas 
How To Build A Bicycle Cargo Trailer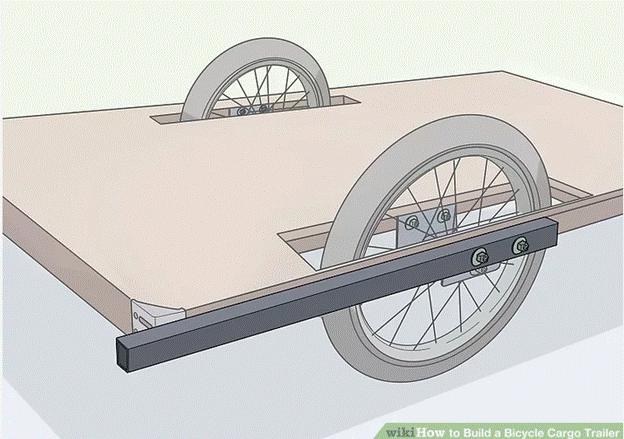 If you love to ride your bike and enjoy getting out exploring but find it difficult to carry things with you on your bike - you have come to the right place! Here we will show you how to build a bicycle cargo trailer to transport anything from groceries to kids. This innovative cargo trailer offers a smooth ride to the market and back. The accompanying video walks you through each process step, from building a frame from wood and metal brackets to adding axles, tires and handles.
DIY Bike Trailer
Go on a trip with your dog or cat, take the kids for a picnic or make it easier to get to the shop. Whatever you use this customized bike trailer for, it's sure to provide. This bike trailer from The Big Bike Project is as unique as it is useful. It's made from an old mountain bike, hockey sticks and a wheelchair for easy assembly, with the frame made from hockey sticks and other wooden sticks. It can be used to haul just about anything you need—all you need is a big heart and a creative mind!
How To Build A Trailer For A Bicycle
Build Your Own Bike TrailerQuick and easy, and this bike trailer can be completed in just a couple of hours with the help of an old bicycle frame. This project is best for beginners as it doesn't require too many tools and skills. The best part is that you can use it for more than just transporting your kids around town - it can be used for grocery shopping or light hauling when you don't feel like taking out your car! This build is a great little video to watch if you're thinking about building your own trailer for a bicycle. It can be used for e-bikes or any other type of bike and will give you an insight into how to build it from scratch and the measurements required.
How To Build Your Bike Trailer
Building the bike trailer is pretty straightforward, and it won't require you to spend too much money. It's made from repurposed materials such as wooden pallets, bicycle wheels, industrial pieces and some handlebars, which can be locally sourced. Most bike trailers you can find at specialist dealers are expensive and can cost thousands of dollars. But learning how to build your bike trailer is relatively easy, so don't be afraid to experiment with your own ideas and designs.
No-Weld Bicycle Trailer Build
The No-Weld Bicycle Trailer Build is a great project for novice bicycle mechanics or anyone looking to get a DIY utility trailer biking without the cost of professional parts or welding. Supplies are inexpensive and can be found anywhere; you likely already have many of these in your home or garage. The tutorial shows you exactly how to put this together so you can get on the road and enjoy your bicycle trailer! This simple no-weld bicycle trailer build uses materials you can find anywhere. It is quick, easy to do, and looks pretty cool!
How To Build A Bike Trailer
Bike trailers are one of the easiest (and often cheapest) ways to haul kids, pets, or other loads around town. But if you think they're just glorified boxes on wheels, you're seriously underestimating their utility. A little ingenuity and know-how can let you turn your trailer into a cargo haulier, bike mobile, and more. Whether you are looking for a cargo trailer to haul firewood or a child trailer to haul your little one, learn the construction steps you will need for building your bike trailer.
DIY Homemade Bicycle Trailer
If you own a bicycle and love doing stuff alone, this is the perfect project. And it's a handy tool that will serve you for as long as your bike survives. It's simple to make and practical. You can use it to haul your produce and other stuff or load it with your friends while going on a biking trip around town. Build it according to instructions from this guide, and you'll be ready to go! This DIY wooden bicycle trailer was just made for you if you love riding a bike to work or doing outdoor chores.
DIY Bike Trailer
Make this DIY bike trailer if you want to bike around with extra cargo but your bike can't handle it. Start by making a wooden plank and attaching it to the hand truck. Make sure it is strong enough to carry what you need! Then, you can attach the plastic barrel. Use this DIY bike trailer to haul things such as drinks, watermelons and more! This project is inexpensive and easy to make, so gather your materials and start crafting.
How To Build A Bike Trailer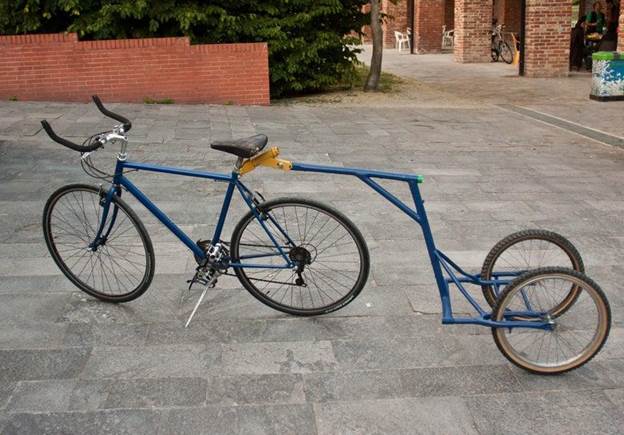 You can build your own customized bike trailer for a fraction of what it would cost to buy one ready-made. This guide will show you how to build a bike trailer from start to finish. It's easier than you think: The parts list is short, most of the work is cutting, and it only requires basic hand tools and maybe a few optional power tools like an angle grinder or air compressor. Having access to metal recycling (like at your local community college) can save you even more money on this project! The finished product will also be great for hauling groceries and transporting your other stuff.
DIY Bike Trailer
Our DIY Bike Trailer is the perfect solution if you want to carry more cargo with your bike. It's made from a bike trailer and an old bike, so it's easy to build and customizable for your needs. You can use this handy setup for camping trips or pickup games of Frisbee at the park. This DIY Bike Trailer is a great way to carry your cargo around. It is easy to assemble and can carry heavy weights for easy transportation. A great project for all skill levels!
How To Build A Bike Trailer Out Of Wood
Tired of having to drag your kids around on foot? Tired of dealing with boring and uncomfortable kid trailers? Learn how to build a bike trailer out of wood and become the coolest parent in town. Building a bike trailer out of wood not only looks great, but it's also surprisingly easy. You can build it to carry old bikes for collecting, tricycles for kids, prams, and plenty more. We're going to take you through the whole process step-by-step. If you have some basic DIY skills, you should be able to get this done in no time.
DIY Bike Cargo Trailer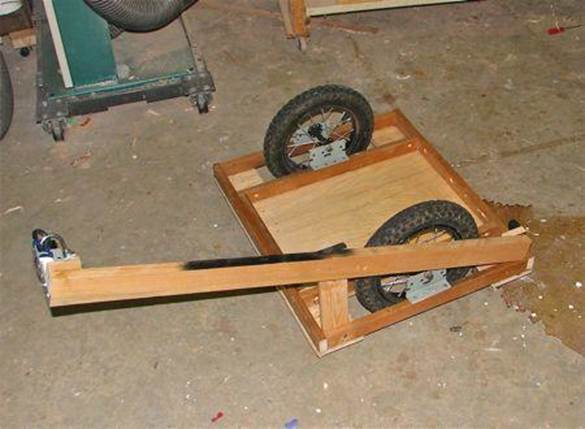 Transform your bike into a cargo bike that can haul anything with this trailer. It attaches easily to nearly any bike and is lightweight enough to carry it with you when not in use. Whether you need to haul tools around the house or something larger like an appliance, this easy-to-install cargo bike trailer can be yours today. Make a DIY bike cargo trailer, and you'll be able to easily transport extra gear or cargo, whether you pedal along the smooth ground or across a rough trail. You can also attach the trailer to your car if transporting heavier objects. And if you are going on a long bike ride, this is something that you will want to do for sure.