Aquarium décor is an integral part of the Fish lover's hobby. This is a fun and easy project for anyone interested in fish. You can create your unique aquarium decorations or add a new touch to the décor in your home. Aquarium decorations can be as simple as adding plants, rocks, or driftwood to your tank, or you can go all out with custom-made sculptures of your favorite sea creatures. It can be fun to decorate your tank and make it look like an underwater paradise. Here are some DIY Aquarium Decor Ideas to help you get started!
DIY Aquarium Decorations
Aquariums can be a great addition to any home. They provide a soothing and relaxing atmosphere, making the perfect place for your fish to swim around. But as beautiful as aquariums are, they can also be quite dull if you don't change them up from time to time. Aquariums need incredible DIY decorations to help liven up the environment and add fun.
So if you want to spruce up your fish tank but don't know where to start? These Easy DIY aquarium decor ideas are perfect for beginners and fun for pros. Great for indoor and outdoor applications, these easy DIY decor projects can be used to decorate the inside of your fish tank or the outside; they make the perfect addition to any home or office!
DIY Aquarium Decor Ideas
Do-it-yourself (DIY) aquarium decor is a great way to add a personal touch to your home aquarium. You can create beautiful and unique decorations for your aquarium with the right supplies.
There are many benefits of DIY aquarium decor:
Customization: You can create decorations that match your room's style or theme.
Cost savings: Making your decorations will save money since you do not have to buy pre-made items from pet stores or online retailers.
Custom shape and size: You can make any shape or size decoration using materials like acrylic, glass, and wood, which allows you to make large or small pieces and shapes with curves or angles if needed.
Reuseable: Once you've created a decoration, it can be reused repeatedly with different fish tanks or other water tanks!
How To Make Aquarium Coral Structure
Making home decor is an exciting project, and it consists of a variety of techniques. This Aquarium Coral Structure is very easy to make and will impress you with its attractive colours and aquarium life-like features. It's easy to create a unique aquarium coral structure using a plastic bottle, wire, and aluminium foil. All you need is enough time to experiment with colours and designs. You can even add moss to give your creation a more natural feel.
DIY Simple Concrete Bridge
Are you looking for a simple yet elegant way to decorate your aquarium? Well, here is an excellent solution for you! This DIY concrete bridge is not only beautiful and practical but also relatively easy to make. For this project, you will only need three simple materials: cement bags, a drink can, and some pebbles or decorative gravel. This DIY idea is both easy and inexpensive! Watch as the author shows you step-by-step how to make a concrete bridge for your aquarium. You can use any colours you want.
3D Rocks Decor For Aquarium
Create your decorative piece of 3D rock that can use in your aquarium. This very easy-to-follow video tutorial will show you how to mould a unique decoration piece with rocks and cement that looks like stone. After drying, it can decorate further with small pebbles, decorative gems, or sand. This is a great DIY project for those who like to make thoughtful gifts. The mould looks realistic and will give your fish a fun place to swim around. A perfect decoration for your aquarium, this 3D rock mould will look great in your aquarium. It's easy to make, and you can paint it in any colour you like to fit right into your décor.
DIY Tree For Aquarium
A good idea for an original decoration for your aquarium is to make a tree. You can do it easily at home yourself. All you need is a bottle, scissors, and glue. After cutting off the top and bottom of the bottle, cut the part in half with a knife. Then make three circles using this method: cut around the top of the circle and pull outwards so that there is a ring of plastic left on each side. Repeat this process until you have enough rounds to form flowers (approximately 15 or 20 total). Affix plastic flowers together by sticking them through one another with glue for your final tree design. The end product of this is a stunningly beautiful aquarium decoration that will make any person smile.
Small Aquarium Decorated With Animal Dolls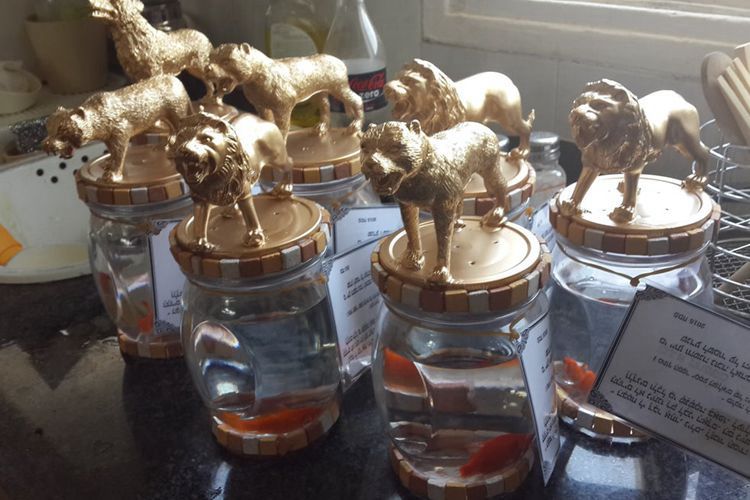 Attaching mosaics and decorating the aquarium often turns out to be a long and tiresome process. But with this aquarium decoration idea, you can easily make your small aquarium look colourful and exciting within a short period. You'll need some animal dolls, glue, paint, aquariums, and water to fill them with. Little animal dolls have a lovely look so you can use them as decorations for your aquarium. If you decide to do this project with your child, they will have fun learning about animals and the natural world.
DIY Aquarium Decor | Fish Tunnel
The aquarium decor DIY is super easy to create and looks beautiful in any home! The materials are simple; you will need some beaded cord, a cola bottle, and glue. The picture above shows the finished product, but as long as you follow the instructions, you should end up with something similar. This DIY Aquarium Decor is a great alternative to the more expensive options on the market. Take the opportunity to be creative and make the best with your kids!
Aquarium In Lightbulb
If you have always wanted to have a fish tank but don't know where to start, this DIY Aquarium In Lightbulb article is for you. You can create your own at home without spending a lot of money. All you need is a light bulb, some tools like a hammer, and cotton. Follow the complete step-by-step instructions in the DIY Aquarium In Lightbulb article below and create your own aquarium at home! You are going to love this DIY aquarium in a lightbulb. It is a perfect way of decorating your home. You can even place it in the living room or office.
Aquarium Cave
This aquarium cave is a great way to make your aquarium stand. You can create a stunning piece that matches any decor with a few supplies. Make sure to use a wide base box, as this will help support its weight and provide stability for your pet tank. This DIY aquarium cave is a great way to give your fish a home that adds beauty and luxurious comfort. The Aquarium Cave is designed to be made by yourself without heavy tools, but it still requires patience, skill, and precision. You will need basic knowledge of using a long-nose pair of pliers and making cuts using scissors and cement powder.
How To Make PVC Aquarium Decorations
An aquarium is a tank or pool of water which contains aquatic life. It can be used to keep fish, turtles, frogs, and other creatures. The living underwater world is fascinating, but if you want to make an aquarium look better and more inviting, you need some decorations like rocks, stones, and plants. These decorations are attached to the surface of the water. Different materials can be used for this purpose, including wood, plastic sheets, or pipes, with great care because these decorations will be submerged in water. If they are correctly attached with proper tools, they cannot come off quickly during usage and add extra beauty to your aquarium.
Lighthouse Decoration For Aquarium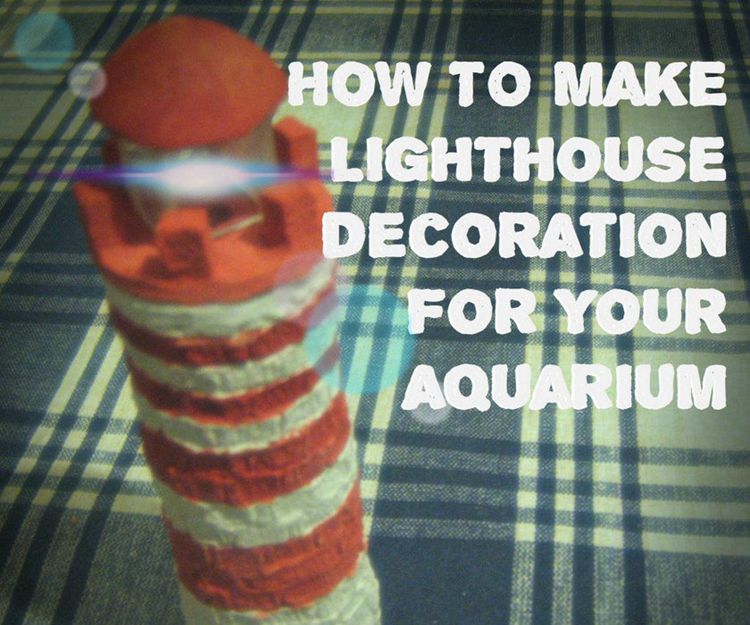 It is a creative idea to decorate the aquarium with a lighthouse. An excellent choice for first-time aquarists who want to make their decoration or transferral. This lighthouse decoration for the aquarium is a fantastic visual addition to your fish tank. Not only does it provide a new character to your fish tank, but it also brings back memories of summer vacations and the ocean. This piece can be easily assembled by hand and will make the perfect addition to any home or office aquarium. It's easy and affordable! Just follow the instructions.
Aquarium Gumball Machine
Decorate your office with this DIY Aquarium Gumball Machine. This fun and functional piece are easy to make and only takes a few tools. Just follow the steps in the article and see how to transform your fully functioning gumball machine into an aquarium! This can be made from used gumball machines. Remove all parts of the device except for that which holds the ball. Then take everything apart and sand them so that they can be painted. Paint in a colour that you like. You may add shimmers or high gloss spray paint to enhance your look. Connecting an air pump and filter before assembling all parts together is best.
Concrete Aquarium Decor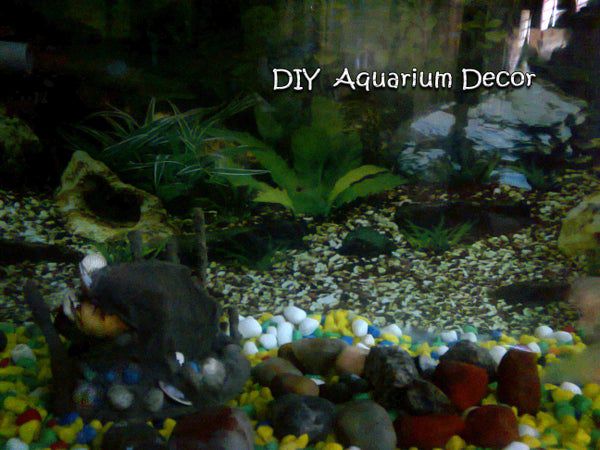 Making concrete aquarium decorations is very easy to do. You can use various items such as coconut shells, rocks or pebbles, seashells, and other decorative items. By mixing concrete, water, and cement powder, you can make cement that can be used on any work surface to create a variety of aquarium decorations. This DIY concrete project for your aquarium is easy to follow and rewarding! With some imagination and concrete, you can make the perfect décor for your underwater kitty.
DIY Simple Aquarium Castle
Here's a way to make an aquarium cave with cement—a somewhat involved process that requires a few materials and supplies but results in a unique home for your fish. Making an aquarium castle is not a hard thing to do. Following this DIY project can do so in less than an hour! You only need a plastic CD case with holes at strategic places, cement, and water. The aquarium castle is a fun and exciting way to keep your fish amused and entertained. The best part is that you can make it yourself with your own hands to know precisely what has gone into making it.
DIY Fisherman's House Diorama Aquarium
The DIY fisherman's house is an aquarium with a very natural look. It appears made from cardboard and small wooden sticks glued together with carpenter's glue (or any other suitable adhesive). It also has some pebbles to provide a more natural colour. Keep it in a cool place and feed your fish small dried shrimps. With this project, you can enjoy an exciting view of the relaxing fisherman's house.
Aquarium Cave DIY
The aquarium cave will give the fish a safe place to go while they enjoy their little world. Fish tanks can be very boring in the long run, and it is good to give your fish some new challenges now and then. This aquarium makes the perfect place for the fish to hide! Make your aquarium cave with a chimney flue. The chimney flue is made out of the same stone terracotta pots they are made from. The cave can also be called Cichlid, or its primary goal is to provide cover and security for fish that need this as their habitat.