Put your own spin on a classic game with these DIY air hockey table projects. From a secret passageway to a modern table that can be moved anywhere, these projects create a fun family experience for everyone. These projects will keep your children engaged and entertained for hours on end. Whether you made one or purchased a pre-made kit, these Air Hockey Table projects will help your kids keep their minds off of everything else happening in the world. From a headboard to a tabletop and everything in between, you can make it yourself using simple supplies and tools that most people possess.
DIY Air Hockey Table Projects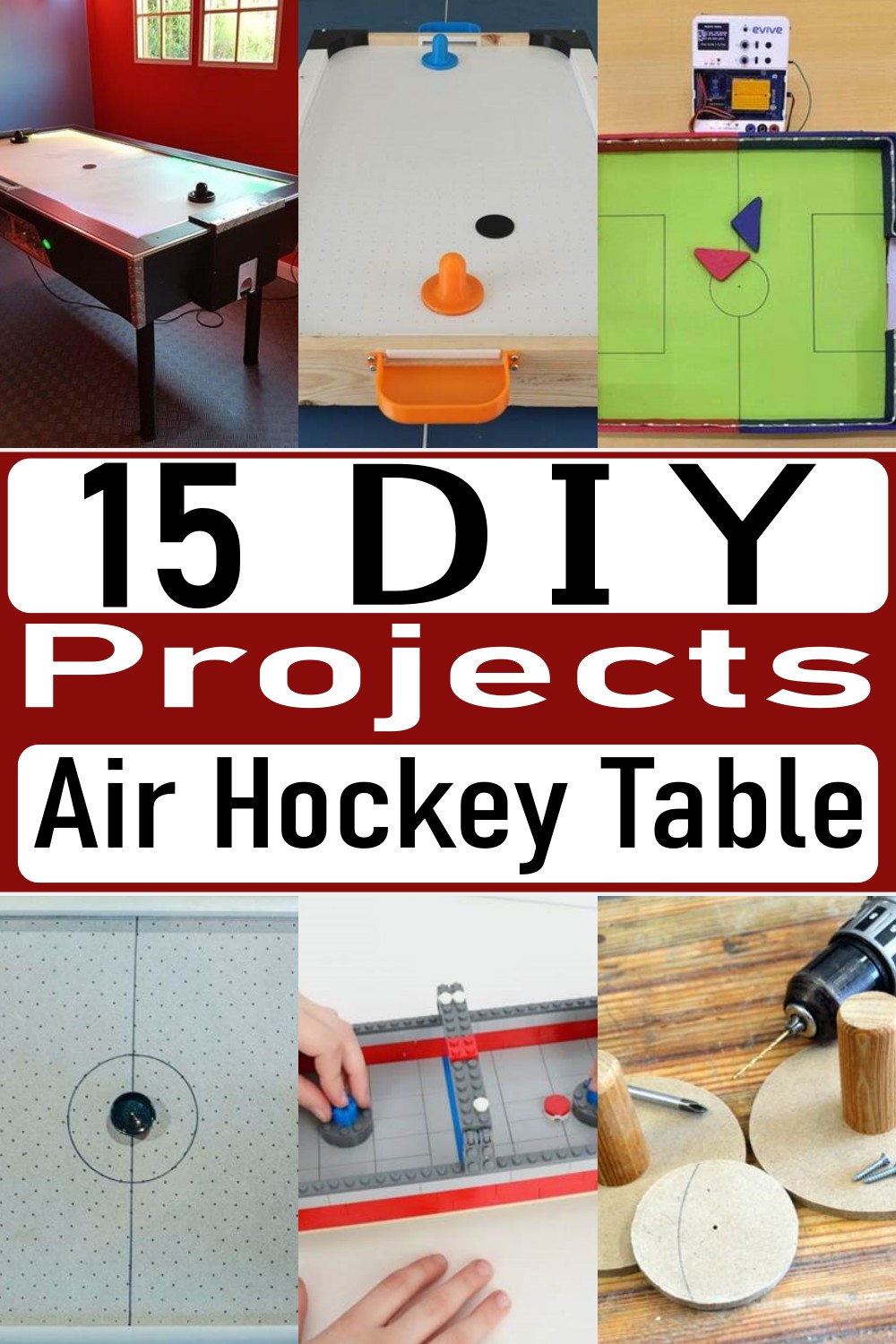 Air hockey is one of those games that never go out of style. Luckily, with the right equipment, you can make it even better — by constructing a homemade air hockey table yourself! Find fifteen projects for making your air hockey table, including plans for building a professional air hockey table and easy hacks that turn regular tables into family fun centers. You'll also find instructions for building an electronic air hockey game and making the best cheap air hockey table." With these DIY Air Hockey Table Projects, you can build yourself any one of the fun and unique designs on this list. There are options for both professional and amateur artisans out there.
Here are 15 DIY air hockey table projects that can help you get started on a custom project that fits your space, budget, and skill level.
See More: 25 DIY Board Game Ideas For Fun
Why You Should Build Your Own Air Hockey Table
Here are some of the reasons why you should consider building your own DIY air hockey table:
Save Money
Air hockey tables can be expensive, so if you're on a budget, building one may be the best option. By making your own table, you'll save money on the materials and labor costs associated with installing an existing model.
Learn Something New
Building an air hockey table is a great way to learn new skills and gain experience in woodworking or carpentry. If you're unfamiliar with these skills, this project will allow you to learn how to use power tools and work with different materials (such as plywood). You'll also learn how to plan projects and measure out space so that everything fits together perfectly once installed in its final location.
Have Fun
There's nothing like playing an arcade-style air hockey game when it comes time to relax after school or at home during weekends!
 Homemade Air Hockey Table Build
Are you looking for a fun way to pass the time? This Air Hockey Table is a great way to have competitive fun with friends and family. Anyone can enjoy playing air hockey, and it's easy to set up. The table is sturdy, durable, and made by hand. This air hockey table was built by the creator from scratch and turned out reliable, fun to play, and durable. The materials you will need to build this are available at home or at your favorite hardware store. It's easy to build and can do it in just a few hours with the right tools.
DIY Air Hockey Table
If you love the game of air hockey, then why not build your own? Making your table will help keep your kids away from electronic games as they will have a place to play together and enjoy the real game. DIY Air Hockey Table is really easy to make. You only need some strong and thick wood boards, pvc pipes or wooden sticks, tape measure, marker or pencil, drill or Dremel, masking tape, screws, and screwdriver. Making your own air hockey table with a few materials and tools is very simple. This is a great project for anyone who has some woodworking experience and maybe wants to try something new or make a special present for someone.
DIY Magnetic Air Hockey Table With Cardboard
A magnetic air hockey table is an easy and inexpensive project to try. You can make one at home with just a few materials. You will enjoy playing air hockey with your friends at this table. It's an extremely fun, fast, and easy DIY project that can be completed in 1 or 2 days. This air hockey table is great for all ages who enjoy playing air hockey game. It's also a modern-day classic kids' party game to play with family and friends. The ICY sheet can be used for all magnetic activities, such as building magnetic toys, teaching children, magnetic experiments, and other applications. The ice sheet is super strong, durable, and long-lasting.
Desktop Air Hockey Table DIY
Air hockey tables are a great game for the whole family, but do you know what it takes to build one from scratch? This video series will show you how to make your air hockey table with lights and sound effects. It's like playing in an arcade! This is a fun and easy-to-make Air Hockey Table. This DIY project is great for kids, teenagers, and adults. You can make it any size, depending on the box you use as your base. The air hockey table can be played on a hard surface, carpet, and even bed sheets if you have enough space!
Air Hockey Table Build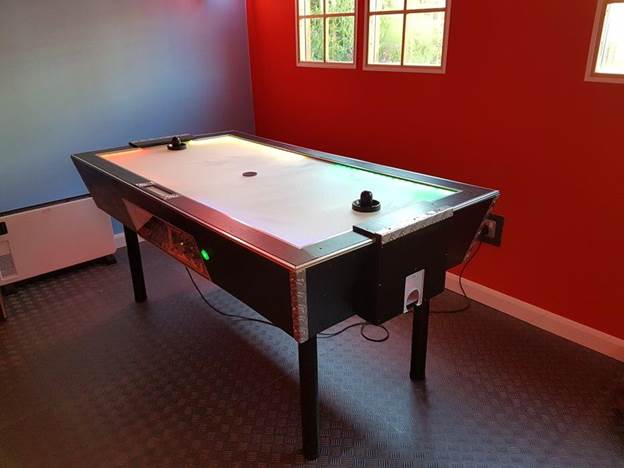 Follow the instructions in this video to learn how to build your own air hockey table. The materials and tools needed for this project are readily available at most hardware stores. A fun addition to your house, your friends and family will love playing on this cool table! In this build, you will find a quick review of some of the best air hockey tables on the market, and you will learn how to build your own personal air hockey table using an old snooker board.
DIY Air Hockey Table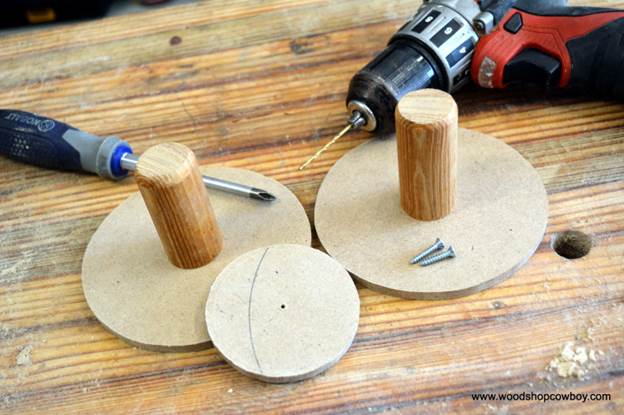 This DIY air hockey table has a plywood surface, perfect for working on and playing. It costs around $40 to make. This price includes the tools you will need for building an air hockey table, like plywood, paint, and wood glue. You'll be surprised how easy it is to make your own air hockey table. This guide will show you exactly what supplies you need and some tips and tricks to help you make your own great gaming table! It's a great project for those looking to get into woodworking; it will not take much time or space to build.
DIY Low-Cost Air Hockey Table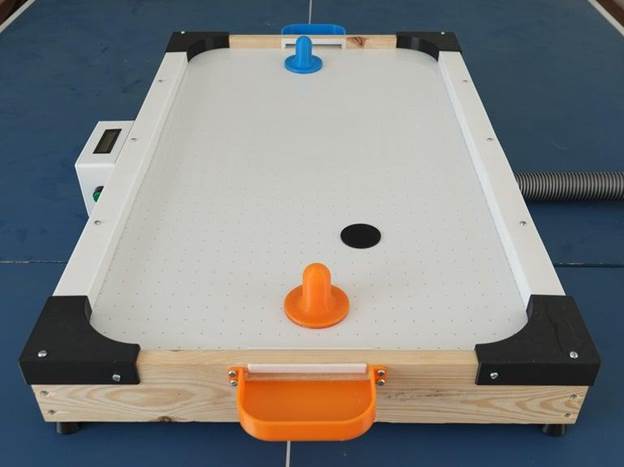 Do you love playing air hockey? Do you love DIY projects? If so, then this is for you. This model is perfect for making your own low-cost air hockey table. You can make it with little or no cash spent. This is a tiling of how to make an air hockey table. You can make this perfect air hockey table with little or no cash. It is a low-cost air hockey table. You'll need a few items: This project is a low-cost air hockey table. You can make this perfect air hockey table with little or no cash. It is a low-cost air hockey table made of plywood, acrylic paint, and 3D-printed components. The total cost for the model was around $50, which is quite cheap.
How To Make A Mini Air Hockey Table
If you love playing air hockey and can't get enough of it, this mini table is perfect for you. This tutorial shows how to make a mini air hockey table out of an old drawer or crate. It is fun to play and helps you strengthen your hand muscles with all the sliding around that takes place. Air hockey is a great game for kids and adults alike. With this video tutorial, you can make a mini air hockey table for the game room in your home, or for those who like to camp, this would be perfect for the family tent. It's great to have fun anytime, anywhere, even if you don't have access to a full-sized table hockey game.
How To Build A Lego Air Hockey Table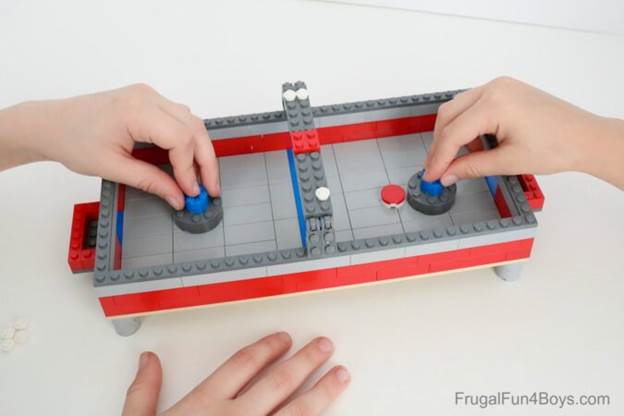 This tutorial will show you how to build a Lego Air Hockey Table that is both fun and challenging. Air hockey is one of the fun games you can play with your family. And now you can play it in your home with a DIY Lego air hockey table. This project is easy to build, inexpensive, and fun for everyone. If your kids love playing air hockey, here's a simple way for them to make their own portable table with Legos. You will need several Lego sets worth of pieces and at least 4 hours of free time. The best part is that it's very simple to make and just as enjoyable to play with.
Air Hockey Table Build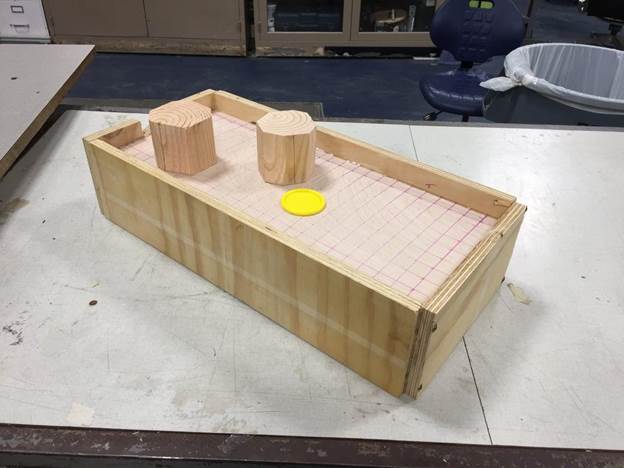 Take your fast-paced table game to the next level with a DIY air hockey table. With the help of this guide, you can build a custom air hockey table that is made to suit your needs. Create your own air hockey table for a fraction of the cost of buying one. This DIY kit includes a file to download with all the information you need to build your own plexiglass cover, miter saw and router guide, power sander guide, router plate, and chisel. You'll need plenty of basic tools like a power drill and screwdriver and more advanced tools like an orbital sander and miter saw.
Homemade Air Hockey Table
This is a homemade air hockey table. It's easy to build, and 3D printed, so you can easily make your own version. Make it as big or small as you want, or add a fancy vinyl top to give it that nice touch. A small part like the scoreboard can be built on its own in no time! Nothing is stopping you now! This homemade air hockey table guide will make you understand how to create your own air hockey game. All you need is some basic tools and materials that are easily available at any hardware store near you. This guide was created by an electrical engineer who had made this circuit work several times before and tested it on himself, his family, friends, and so on.
DIY Air Hockey Table
Are you looking for a way to keep the kids happy without spending a fortune on electronic games or toys? You're in luck. This DIY Air hockey Table is the perfect solution. It's simple and easy to make, and you probably have the required materials in your recycling bin or toolbox. All you need is cardboard and some electrical components if you wish to make it fancy with flashing lights. When completed, this table will become one of your family favorites. This tutorial includes pictures and measurements that will guide you through the process.
Mini Air Hockey DIY
The Mini Air Hockey DIY is an incredible mini air hockey table you can build at home. You get to control the strikers from under the table, so many actions go on at the surface while you move them around. The making process is quick, easy, and even fun to build. It's a great gift idea for your kids or as an office ice-breaker toy. The table comes with strikers that move from under the table so you can control them from under it, not on top. It is ideal for indoor use and perfect for kids, especially during the holidays when they're at home being bored with nothing to do!
DIY Air Hockey Table Cardboard
Air hockey is one of the most popular arcade games that can be played with two or four people. You will need some pieces of cardboard, an electrical fan, a sandwich panel, and glue. With the cardboard, you will create a pretty nice and simple box. The rest of the steps are an effortless way to build. This Air Hockey Table DIY is simple and smooth, yet it also looks great. So, get your free time ready in your calendar because this project won't take too much of your time or energy.
How To Make Air Hockey
Here is a fun DIY project that will keep the kids or you out of trouble for a while. This Air Hockey Table is simple to build and fun to play with. You'll need about a meter and a half of hard cardboard. This can be from a television carton or similar. Place the piece of cardboard on the floor and mark out holes for the legs to stand in. Use a proper pair of scissors and make the edges neat. Push the pieces through at each corner. Mark out the position of these holes on the other side of your table, too, so they are in perfect line with those on this side."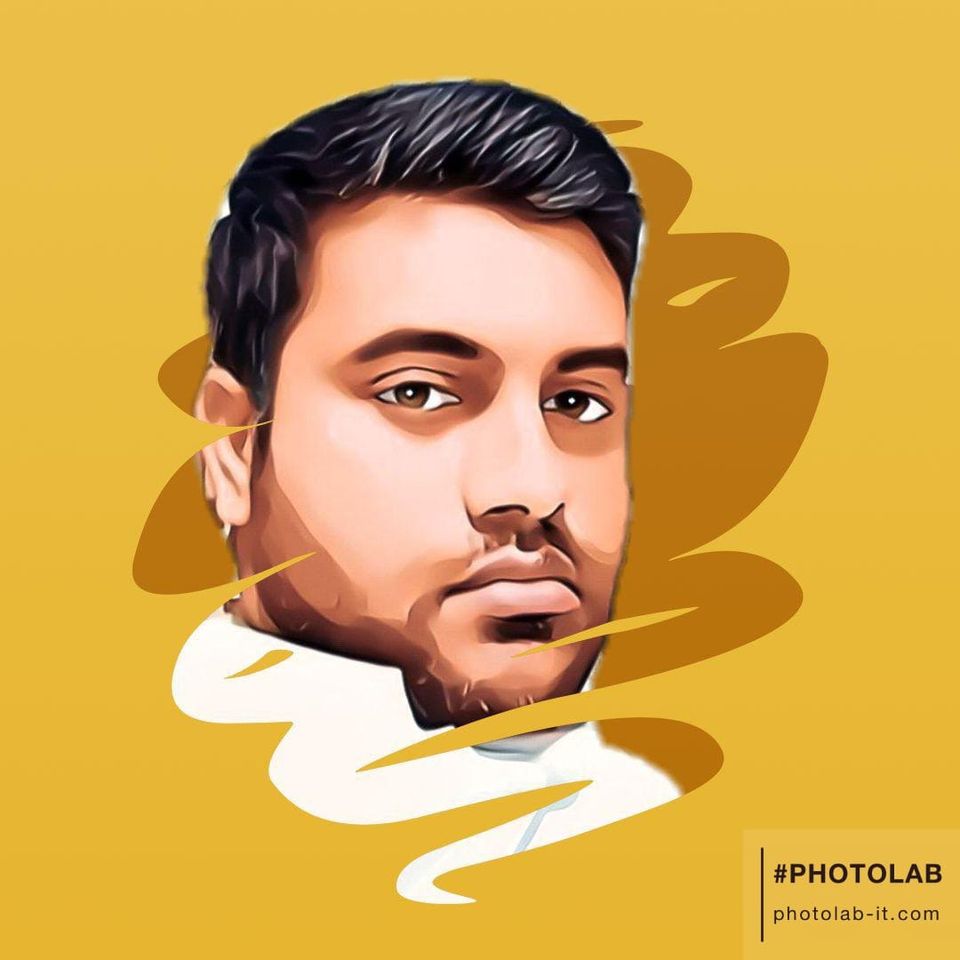 I am Raza, a crafts expert with 6 years of experience. I run this site for DIY lovers to provide the most exciting projects and ideas for your home, office, and everyday life. See More