The Halloween season is here, so it's time to dust off your crochet hooks and get busy with some spooky patterns! These 15 crochet bat patterns are so adorable that they might make you wish they were real, flying around your neighborhood. From a bat made out of one single piece to an amigurumi bat with huge eyes, the bats below will help your home feel like the most haunted place on Earth. Try whipping up a few of these for your front yard this year—you'll be glad you did!
Amazing Crochet Bat Patterns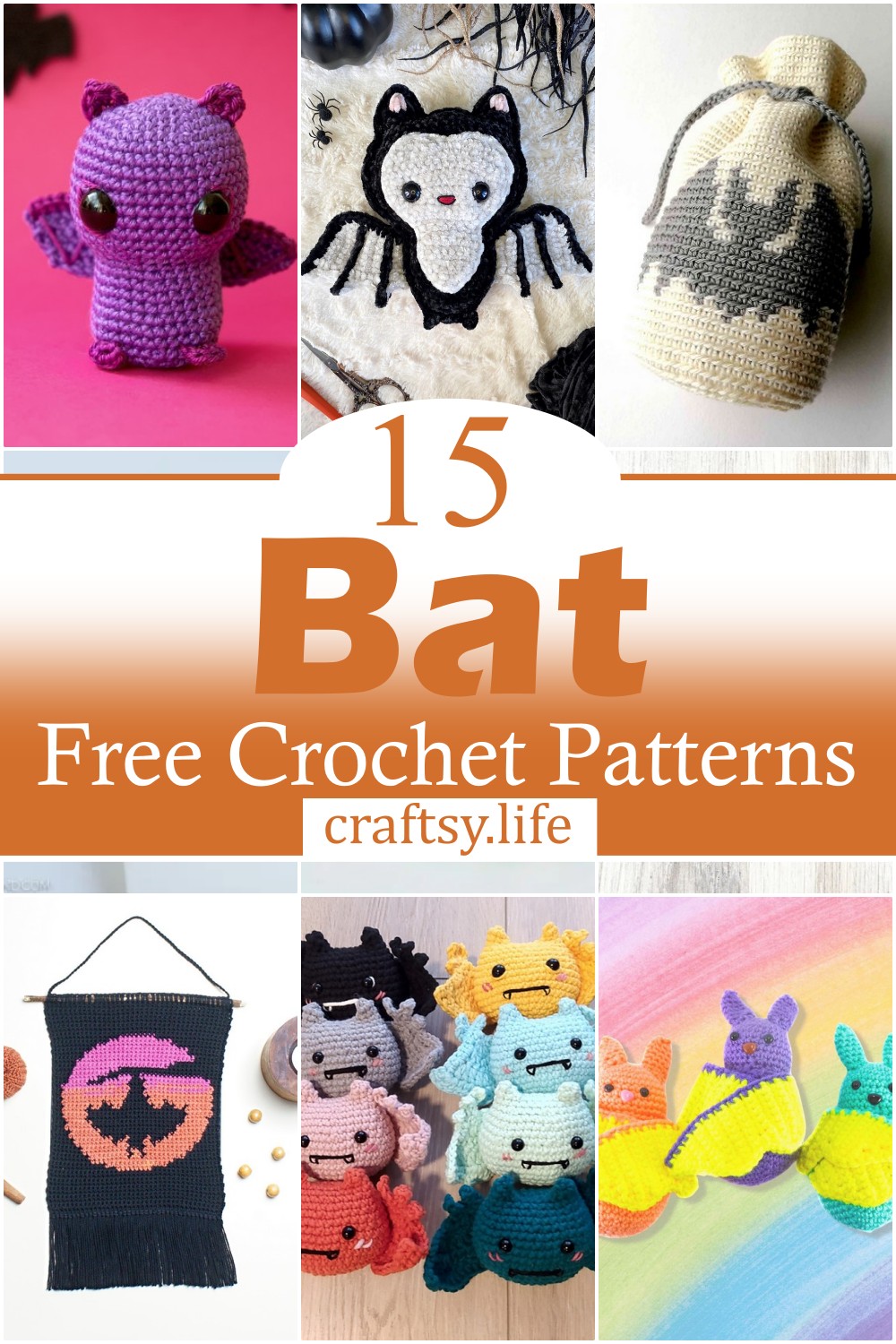 Crocheting bats are fun, and it's not hard to do. There are many different types of bats, with different shapes and sizes, but all are cute, cuddly, and easy to crochet. Some of the following Crochet Bat Patterns are written for beginners, so if you're a beginner, you can try crocheting them. Bats need yarn in various colors, a few hooks in different sizes, polyester stuffing, and scissors. If you know how to follow basic instructions and want to learn how to crochet bat patterns yourself, scroll down the page or click on the link below the picture and start reading. Good luck!
Tips For Crochet Bat Amigurumi Patterns
Bat Patterns are the best Halloween decoration. These are very simple to make, and with some practice, you can make them in different sizes, colors, shapes, and styles. Here are some tips for crocheting bat patterns.
Use a thinner yarn to create a small bat, or use a bulky yarn to create a large bat.
For making wings of your bat pattern, you can use various stitches like chain stitch, slip stitch, single crochet, etc., depending on the shape of your wing.
If you want to make your bat pattern thicker, use multiple strands of yarn together while working on it. For example, if you make your bat pattern 2 inches wide, you can use two strands of yarn together while working on it instead of one strand at a time.
You can also try out different colors while working on your bat pattern, depending on the size of your work and its shape.
Bat Amigurumi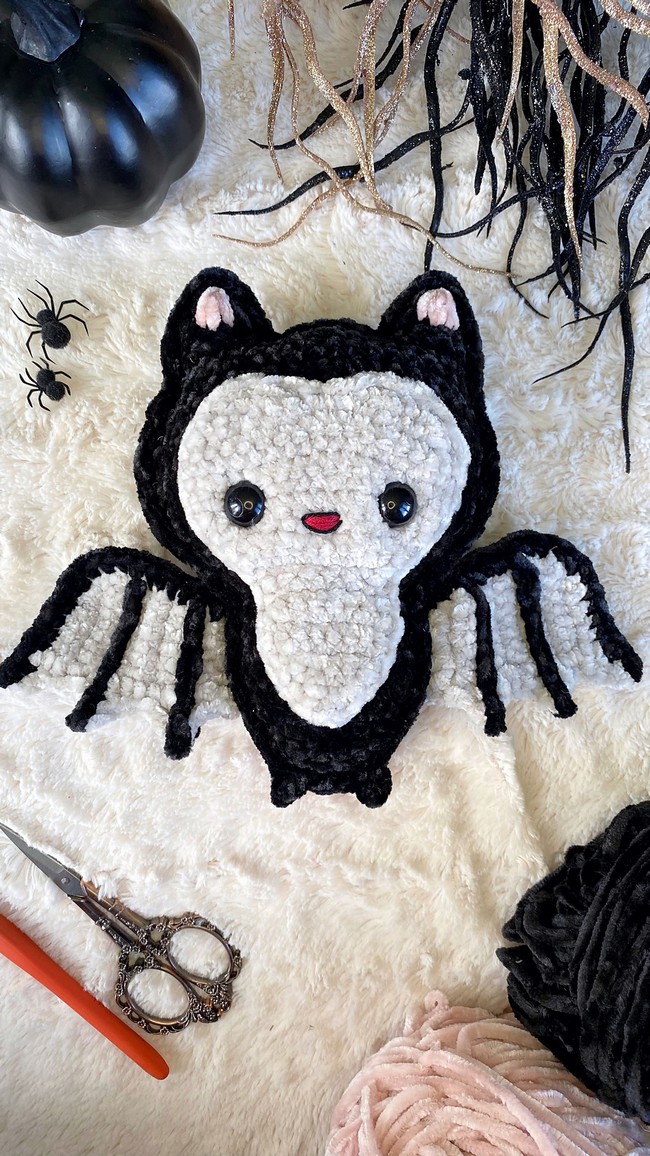 This crochet bat amigurumi pattern is easy to follow and works up quickly! The completed crocheted bat amigurumi stands approximately 5" from head to toe. This simple bat amigurumi crochet pattern is a perfect beginner (free) project for crocheters ready to take their skills to the next level. Crochet your little friend using these easy-to-follow instructions, then show off your fabric masterpiece in a dollhouse or shadow box.
Materials
3.25mm hook for main (I use THESE hooks!);
2.75mm hook for belly/face patch and wings;
Bernat Velvet (bulky, category 5) in Blackbird (less than 50g);
Bernat Baby Velvet (worsted, category 4) in Blissful Greige (less than 50g);
Bernat Baby Velvet (worsted, category 4) in Pink Dusk (small amounts);
14mm Safety eyes;
Black crochet thread, size 5;
A small amount of red yarn or embroidery thread for mouth (optional);
Stuffing;
Tapestry needle.
Abbreviations
Ch – Chain
MR – Magic Ring
Slst – Slip stitch
Surface slst – place yarn behind the fabric, insert hook into the crocheted fabric from the front to the back, yo and pull a loop through to the front, *insert hook into fabric next to the st just worked, yo, pull a loop through to the front and through the loop on hook, repeat from *.
Sc – Single Crochet
Inc – Increase. Work a regular sc increase
Dec – Decrease. Work a regular sc decrease
Hdc – Half double crochet
Dc – Double crochet
Pc – Picot. Chain 3, slst to first ch
Sk – Skip
Halloween Twilight The Bat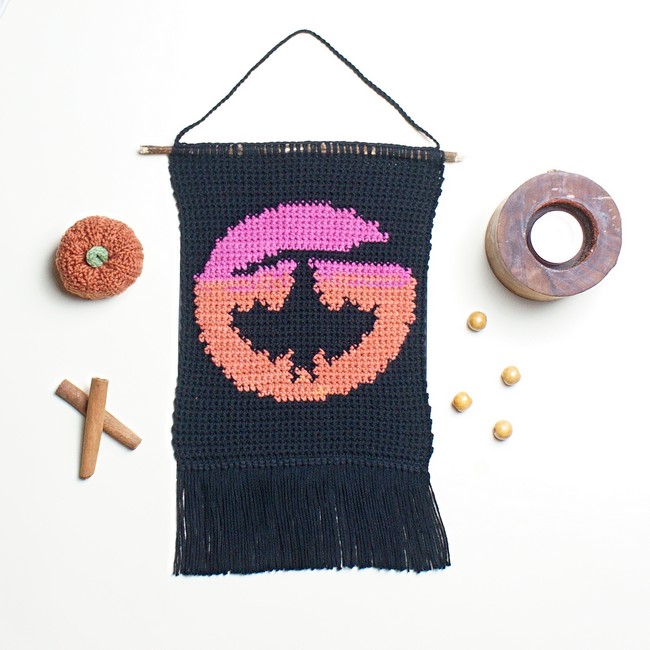 This bat is the perfect addition to your Halloween décor this year! This beautiful handmade crochet holiday decoration makes an excellent gift or home accent for yourself. A great gift for beginners or those who like to create quickly. This bat is small enough to fit in your palm and will make the perfect addition to your holiday decorations. The pattern below includes detailed step-by-step instructions with plenty of photographs.
Materials
Yarn: Sport / Fine / #2 yarn. ( Here, I use Alize Cotton Gold & Alize Cotton Gold Batik)
Estimated Yardage = 146 YD.
- Black = 110 YD. (Alize Cotton Gold, Color Code: 60)
- Contrast Color = 36 YD. (Alize Cotton Gold, Color Code: (7107)
>> Other Yarn suggestions:
- Style Craft Special DK
- Brava Worsted
Hooks: - 3.5 mm Crochet Hook.
Notions:
- Dowel rod or Tree Branch.
- Darning Needle.
- Stitch Marker.
- Scissors.
Abbreviations
 Ch = chain
 st/sts = stitch(es)
 Sc = Single crochet
You can also see: Easy Halloween Sewing Patterns
Neon Fruit Bats
Your children will love these adorable fruit bats. The cute little critters make great Halloween ornaments and look fantastic as part of a summertime get-together on the patio and hanging from trees during autumn. They are easy to make and a perfect project for kids and adults alike. Crocheted from 100% cotton and using glass beads, these crochet neon fruit bats are a fun decoration for any room of the house.
Materials
-1 ball of Craftsmart Value Neon Yarn in Neon Yellow.
-1 ball of Bernat Premium Yarn in Grand Purple/1 ball of Craftsmart Value Yarn in Light Coral/1 ball of Bernat Premium Yarn in Iced Aqua.
-4.00mm Crochet Hook.
-Safety Eyes and Safety Noses.
-Polyfill (stuffing).
-Scissors.
-Stitch Marker.
-Sewing Pins.
-Darning Needle.
-Row Counter.
Abbreviations
ch=chain
sc=single crochet
ss=slip stitch
st(s)=stitch(es)
F/O=fasten off
inc=increase
dec=decrease
Baby Bat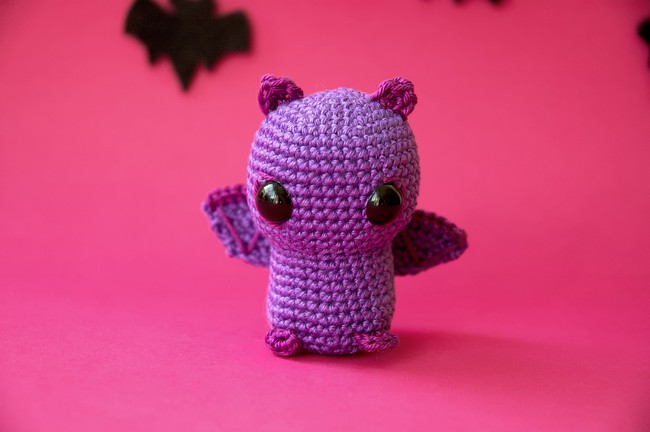 Bat is a perfect gift for those who adore beauty and cute things. Bat is a great toy for children because it can develop children's imagination and creative abilities. This crochet baby bat is the perfect gift for your friends or family members who love to Crochet! It's also a great decoration for your children's room or nursery. So, use this guide and Crochet this tiny baby bat with an adorable face that looks like the little boy who loves to play in his crib with his toys.
Materials
If you are new to crocheting and don't want to buy everything separately, I recommend getting a crochet Starter Kit with the main tools.
Hook 2.5 mm -> my go-to and absolute favorite crochet hooks are these Japanese Tulip Etimo roses. I use them all the time!
Yarn: Schachenmayr Catania Number 2 in the colors 0113 violets (A) and 

0282 phlox (B) 

Stitch markers -> I use these.
Stuffing -> I use this poly-fil stuffing; I recommend getting a larger amount because, in my experience, it's used up fairly quickly
Abbreviations
St
stitch/es
Sc
single crochet
Inc

Index

Increase

Invisible decrease

FLO

Hdc

dc

Ch

front loops only

half double crochet

double crochet

chain

R number
round/s number
(number)
number of stitches of the round
Drawstring bag with a bat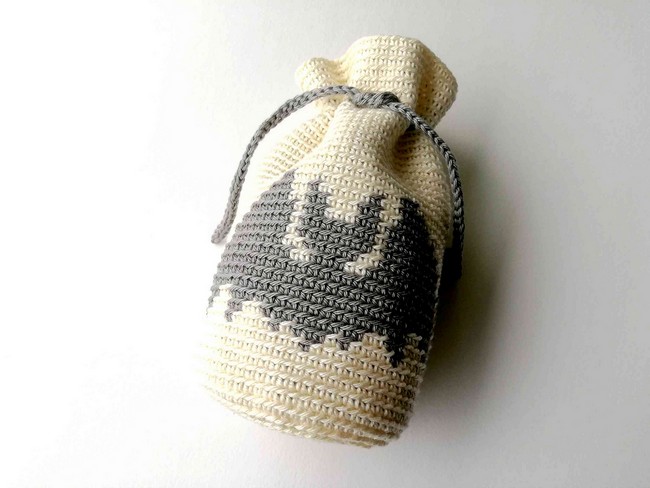 The Crochet Drawstring bag with a bat is a perfect accessory. This lightweight crochet bag is ideal for carrying to your next concert or walk along the river. It's the ideal gift for any occasion, birthday, or holiday. You can have it by hand or over the shoulder. The drawstring allows you to close it securely and carry your items securely. The guide below will show you the step-by-step instructions and follow-up steps.
Materials
Yarn: any thin yarn will work. I used DIAMOND 8/4 mercerized cotton 100% 50g (165 m). Colors: 201 (offwhite), 1361 (gray).
Hook: as suggested on your yarn label. I used hook size 2.0.
Abbreviations
ch: chain
sl st: slip stitch
sc: single crochet
msc: modified single crochet
prev: previous
st: stitch
rep * *: repeat from * to *
Small Bat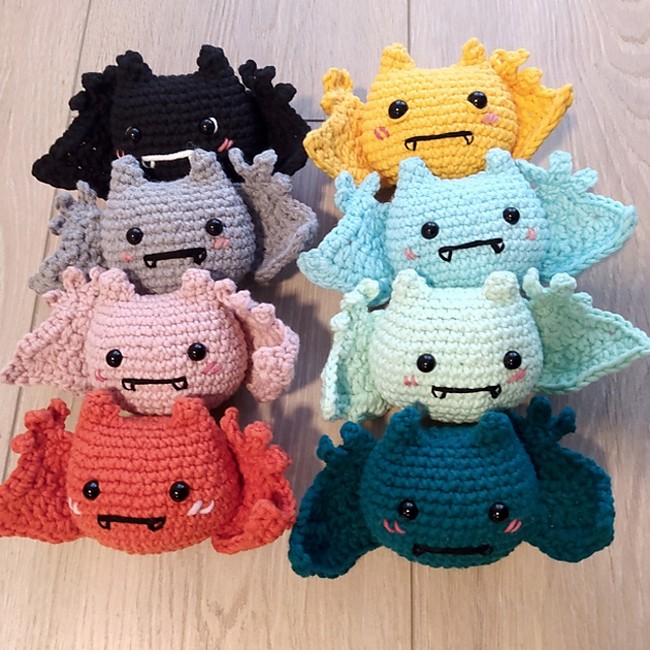 Crochet Small Bat, this item is charming and playful. It brings a bit of magic to your home. The bat is made with luxurious cotton yarn that adds a rustic touch to the decor. Use this small crochet bat to spice up your decor. It looks great on a wall or hanging from the ceiling, indoors or out. You will love how easy it is to do this project and how calming the finished product is. Here are the instructions given below!
Materials
Yarn: any yarn you would like to use. Keep in mind that size can vary with different yarn. Yarn that I have used: YarnArt Jeans Plus in blue color

Small strands of dark yarn for embroidering mouth and eyes

Pink yarn for cheeks

Stuffing

Hook 4mm

Scissors

Darning needle

Stitch markers

Safety eyes 6mm
Abbreviations
MR - magic ring

sc - single crochet

dc - double crochet

hdc - half double crochet

inc - increase

dec - decrease

⁠ch - chain

ss - slip stitch

Rnd - round

(...)x - repeat x times what is in brackets

[...] - the number of stitches after finishing the current row
Bat Trick or Treat Bag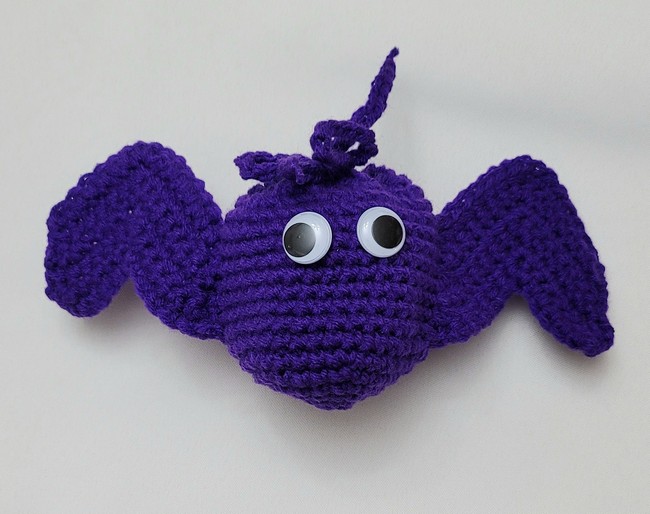 Crochet a sweet treat bag to carry around all your costume goodies in! The pattern is perfect for beginners who want to try a brand-new Halloween project. Just start crocheting today! The bag is easy to make and works up quickly with the worsted-weight yarn. It's the perfect size to carry around all the treats you'll gather while doing the rounds in your neighborhood. This bag can be used year after year and can hold lots of candy too! This is an easy project, requiring just one piece of inexpensive yarn and a little time.
Materials
50 yards worsted weight yarn
Crochet hook size H (5.0 mm)
Google eyes
Pipe cleaner
Bat Scrubby
This crochet bat scrubby is a wonderful addition to your kitchen tools. Use it for everything from washing dishes and scouring pots to removing stains from clothing or polishing your countertops. Change colors every few washes for even more fun! This crochet scrubby is a fun addition to any kitchen and makes an excellent gift for family and friends! This easy-to-crochet pattern makes it a nice quick project. Make a few as gifts for teachers back to school.
Materials
25 yards scrubby yarn:
Size G (4.0 mm) crochet hook
Yarn needle
Bat and Moon Placemat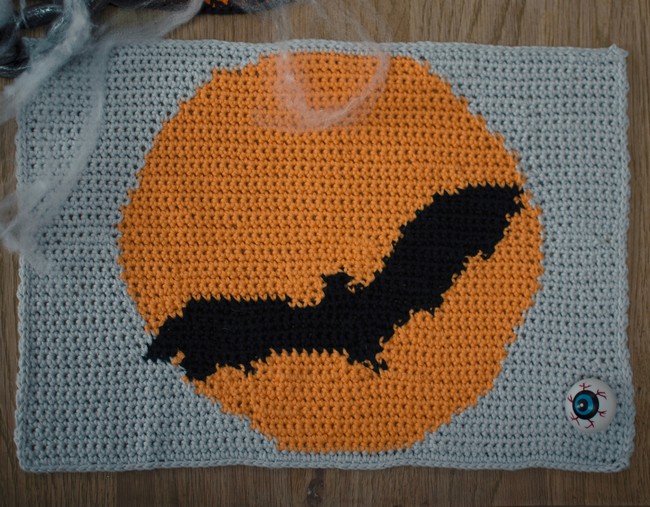 This Moon and Bat placemat is the perfect accessory for your kitchen decor. Crochet with love measures approximately 13" in diameter, comes gift-wrapped, and is ready to give as a birthday or Christmas present. This crochet placemat features a whimsical bat and moon design. The best way to keep your table looking stylish. It takes less than two hours to make and adds a touch of flair to your dinner table. Crochet this Bat and Moon Placemat as a gift for someone special, or use it at your next dinner party.
Materials
#4 weight (aran) cotton is perfect for a placemat
5mm hook
Stitch markers to mark first and last stitches (optional)
Scissors
Tapestry needle
Abbreviations
Ch(s) – chain(s)
St(s) – stitch(es)
Sc – single crochet
>> or << – indicates which way the row is worked – right to left or left to right
Bat Bracelet Batlet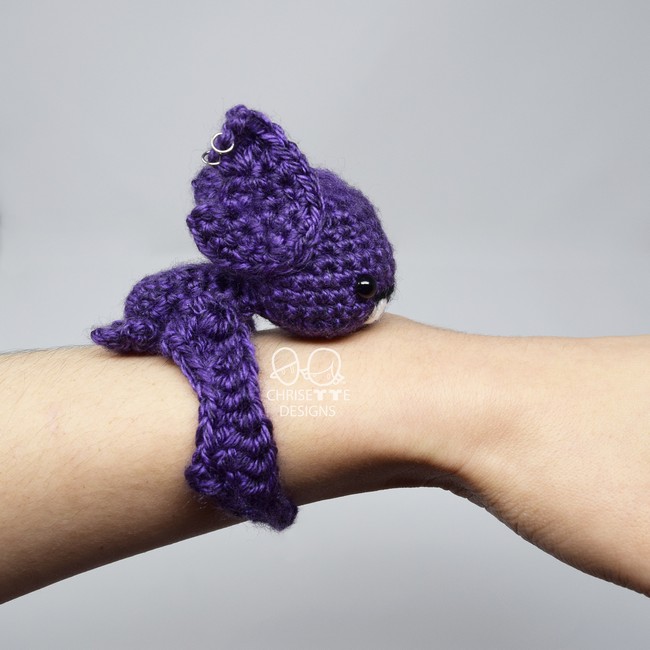 A gorgeous crochet bracelet that's sure to add a little dose of spookiness to your outfit. This is a one-of-a-kind piece that would make the perfect gift for anyone! It features a stylish bat with cute little ears and a crocheted tail. This simple but elegant fashion accessory is ideal for those who love all things dark and mysterious. Crocheted with colorful yarn, this looks great on any wrist. Wear it and have people saying, "wow!".
Materials
1. Medium-weight size 4 yarn in any color.
NOTE: If you plan to brush the top of his head, use acrylic or natural fibers like wool. Cotton will not work.
2. 3.5 mm crochet hook.
3. Stitch marker.
4. Bent Yarn needle.
5. Polyfil.
6. Two 6 mm safety eyes.
7. Sewing pins to hold pieces in place.
8. Jump rings & pliers: if adding the earrings and/or jewelry clasp hardware.
9. Fabric glue: to secure ends and glue on velcro if you choose not to sew it on.
10. Sewing needle & thread: if you choose to sew the velcro on.
11. Cat hairbrush (Optional for fuzzy hair).
12. Lobster clasp: as shown on the purple bat.
Abbreviations
Magic ring:
ch(s): chain(s)
sc: single crochet
st(s): stitch(s)
inc: increase. 2 sc in the same stitch.
Dec: single crochet 2 together. Do the invisible decrease, so you don't see big holes. The video tutorial is below.
Hanging Bat Amigurumi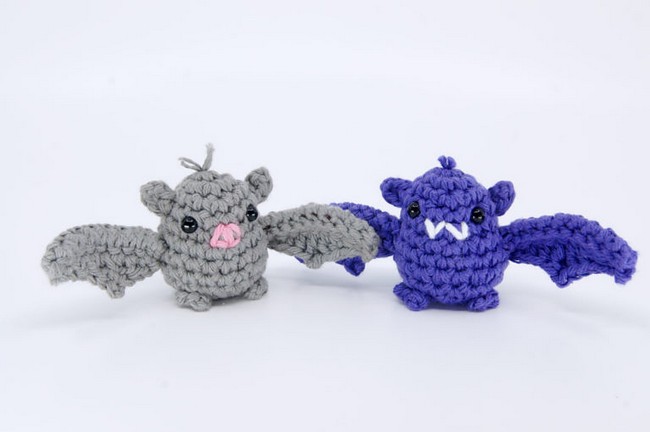 This hanging bat will make a great decoration for your home or office. It can be used as a Halloween decoration or placed on a wall inside the house. You can hang up this fun and unique bat as a Halloween decoration or simply because you love bats! This pattern includes instructions for adding a hanging loop so that you can hang your bat anywhere: on your front door, a window, or a tree. Use this guide to learn more!
Materials
The Yarn (Worsted Weight)
– Color A
– White or Pink (face)
Size G6/4.00mm Hook
Plastic Saftey Bead Eyes (6mm+)
Stuffing
Pipe cleaner
Mini Magnet
Needle
Abbreviations
– Ch: Chain stitch
– St: Stitch
– Sl.st: Slip Stitch
– Sc: Single Crochet
– Hdc: Half Double Crochet
– Dc : Double Crochet
– Tr : Trebble / Tripple Crochet
– Dec/Inc: Decrease/Increase
– InvDec : Invisible Decrease
– FLO : Front Loops Only
– M.p : Mini Picot
Bat Hand Puppet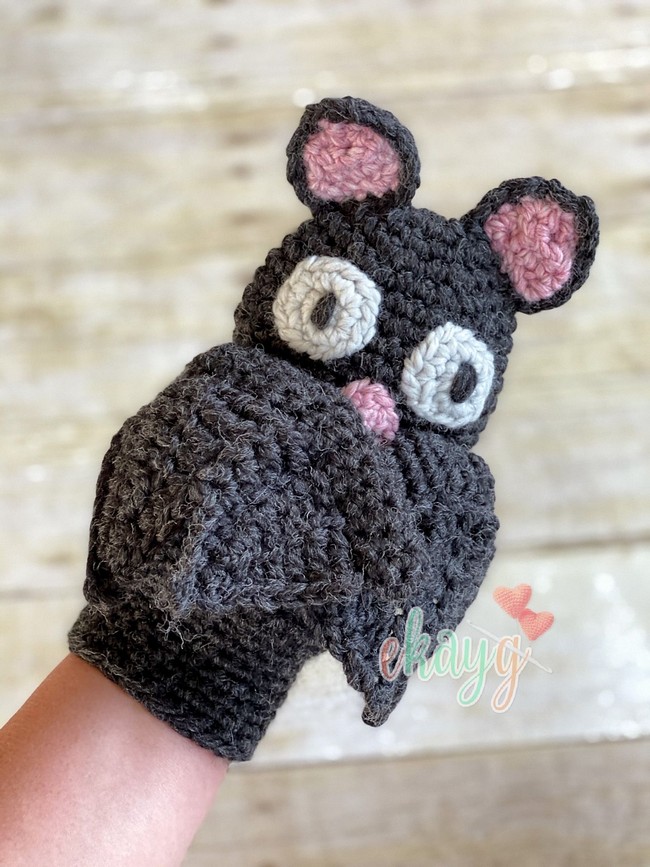 The Crochet Bat Hand Puppet is the perfect addition to your child's collection of handmade toys. The set comes with a crochet pattern and instructions on making it, so you can create this creepy-looking puppet using your skills. For children aged nine years old and above, this fun toy will keep them entertained for hours. This little bat is cute on the outside, but he's ready to go trick-or-treating, too! His striped wings are so adorable, and his big eyes are full of mischief.
Materials
THE HOOK NOOK, SMALL STUFF: Minimalist
THE HOOK NOOK CROCHET HOOK, size H – 5mm (I used The Hook Nook Interchangeable Hook Set)
Stitch marker
Tapestry needle
Scissors
Abbreviations
Magic ring
Rnd, rnds – round, rounds
St, sts – stitch, stitches
Sl st – slip stitch
Sk – skip
Sc – single crochet
Hdc – half double crochet
Dc – double crochet
Tr – triple crochet
Inc – increase, 2 sts in same st
Dec – decrease, combine 2 sts to make 1 st
BLO – back loop only
Draculon the bat
Take a trip to the dark side with this Draculon the bat Crochet Pattern! This beautiful little guy is made from various yarn colors and has tiny fangs you'll love to make. He makes for a perfect display piece or decoration your friends will love to have around! This crochet pattern is easy to make and a unique Halloween decoration to hang in your home. This pattern has been designed with easy-to-follow instructions to help you get started.
Materials
– Sports weight yarn in light and dark grey. You'll need about 25 g in light grey and 10 g in dark grey. Small amounts of white. If you want a bigger bat, use the worsted weight
– Crochet hook 2.5 mm (or fitting for the yarn).
-Filling materials.
– Scissors – 12 mm safety eyes
Abbreviations
Ch        – chain
rnd      –  round
st         – stitch
sl st     – slip stitch
sc        – single crochet
sc dec  – single crochet decrease
sc inc   –  single crochet increase, 2 single crochet in one stitch
dc – double crochet
hdc  – half double crochet
mr – Magic ring
yo        – yarn over
[]           –  repeat action
BLO      – back loop only
*-*       – repeat action
Breezy the Baby Bat
Crochet Breezy the Baby Bat is a great way to get started in amigurumi! This sweet little Bat is easy to make and works quickly with Acrylic Yarn. This is a unique pattern for any crocheter to try. This adorable pattern includes both the template and crochet how-to. Babies and adults alike will love this little bat mascot! Let's get started; It's quick to make and sure to bring a smile to any child's face.
Materials
Yarn: Worsted-weight yarn
75 yds main color (A – shown in grey)
75 yds accent color (B – shown in black)
Hook: Size H/ 5 mm crochet hook or size needed to match gauge.
Notions:
Fairfield Poly-Fil Premium Polyester Fiber Filling
Yarn Needle
Stitch Marker or scrap of yarn to use as a marker.
Abbreviations
ch = chain
sc = single crochet
dc = double crochet
fpdc = front post double crochet
sc3tog = single crochet next 3 stitches together (see Special Stitches)
inc = increase (see Special Stitches)
dec = decrease (see Special Stitches)
dbl dec = double decrease (see Special Stitches)
sk = skip
st(s) = stitch(es)
sl st = slip stitch
sp = space
ch-sp = chain space
rnd = round
RS = right side
Ben the Bat
Ben, the Vampire Bat, is a colorful little vampire who loves to hang out upside down and is always ready for adventure. He can easily be made as a gift for children, tweens, and teens alike! Ben is made using 100% cotton yarn and can be crocheted using basic stitches. This adorable crochet bat features a colorful body and an accordion-like wing. This little bat is always ready for Halloween and looking for a trick or treat!
Materials
– a 3mm crochet hook
– purple, black, and fur yarn
– toy stuffing
– a scissor
Abbreviations
– Magic ring
– Single crochet (SC)
– Increasing (2in1)
– Decreasing (2to1)
– Crocheting in rows (LC)
– Crocheting with fur yarn